Feb 2, 2020 UPDATE – We made it through the locks to the Pacific Ocean yesterday. Here's a time lapse video montage of our transit through the Caribbean side locks:
Jan 31, 2020: Pansit (Panama Transit) Day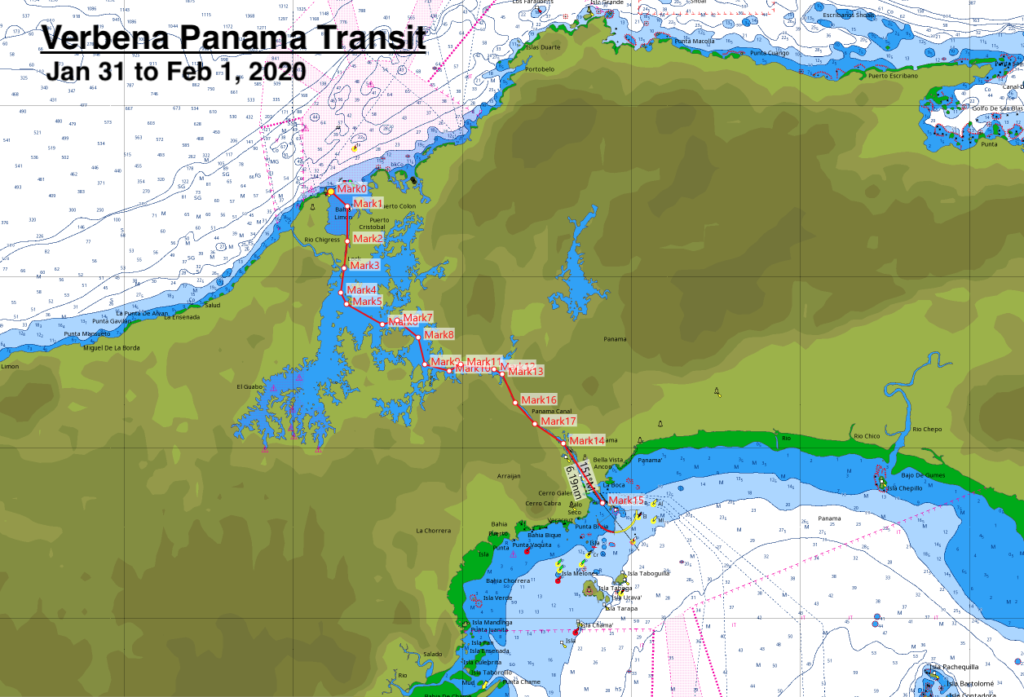 In Brexit fashion, the day – like it or not – has come for Verbena to break from the Atlantic Ocean and head into the new Pacific waters.
You can view us going through the locks at these high resolution lock cameras. We should be in the Gatun locks (Carib side) today (Jan 31) between 4pm and 6pm. We should be in the Miraflores locks tomorrow (Feb 1) between 1-5pm.
Here's how the transit is suppose to go:
1430hrs: today (Eastern Time) we leave Shelter Bay Marina.
1515hrs: Receive an 'Advisor' onboard our boat at a waiting area

Begin our transit, rafting up with two other boats into a 'nest' as we approach the Gatun (Carib side) locks. Verbena will be the middle boat.

Spend night on Gatun Lake: Once through the locks, raft up on a mooring in Gatun Lake. The Advisor leaves the boat.
0600 on Feb 1: Advisor comes back on boat and we then travel 35 nm through canal.
Afternoon Feb 1: Nest up with other two boats and head through Miraflores Locks on Pacific side.
Evening Feb 1: Arrive at La Playita Marina