Our year at sea is 99% about the trip, but a goal and a plan is a necessity. Renee and I have never sailed the Pacific ocean nor the southern hemisphere so Australia and all the remote ports along the way became a natural goal.
Global weather patterns are such that the least chance of storms, hurricanes or cyclones is to be at the middle of the south pacific around the end of March. This sets up a standard sailing route called the 'Coconut Milk Run' from the Panama Canal at the end of January to Australia's east coast by August.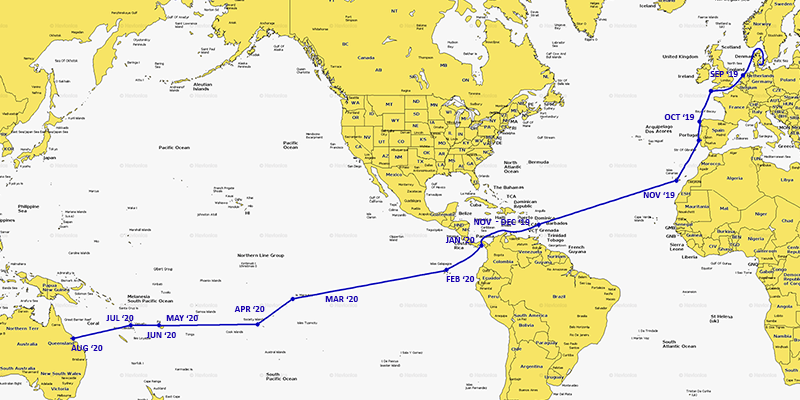 When originally contemplating our year at sea, we naturally thought we'd leave from our home port of Boston. But, to avoid east coast hurricane season you shouldn't leave New England before November. Had we left from Boston we would not be able to safely get to the Caribbean before December. The early November trip from Boston to the Caribbean is one that Renee and I had done in 2002 and left a scaring memory of some of the most stormy conditions we've ever experienced. That coupled with complication around what should the kids do from September to November about school left a November Boston departure less than ideal.
In searching for a boat for our voyage, a sailor friend and boat broker Francis Shiman-Hackett suggested the X-Yachts X-55 as a good boat for our criteria (I'll write more about our criteria another time); only issue is all X-55's for sail were in Europe.  Another sailor friend and professional captain, Josh Summers, then gave me the brilliant idea to start in Europe over the summer instead of in November.  We will still get to the Caribbean and the Pacific on the same schedule and add a whole European arm to our adventure.  What's another ocean crossing amongst friends, right?