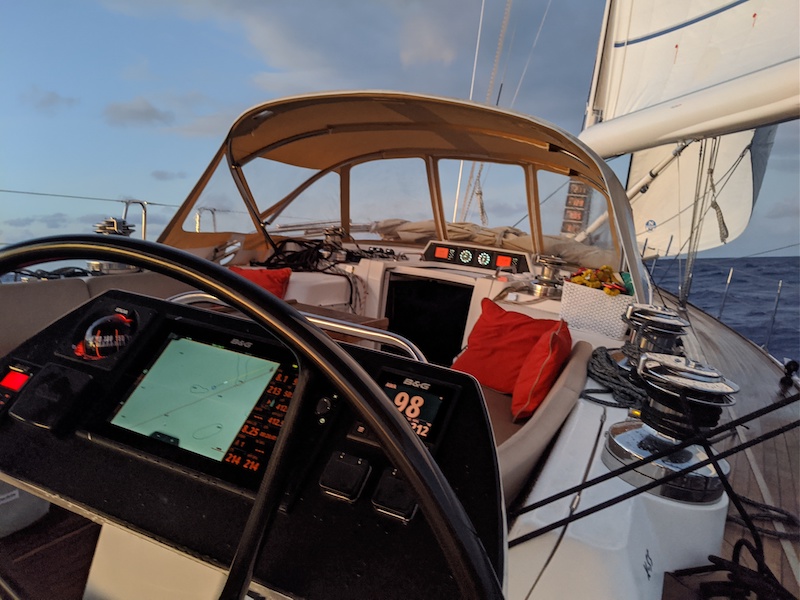 Our year at sea is aboard a 2007 X-55 made by X-Yachts.  The boat is a strong, ocean going boat built by a yard with a 40 year history of building high quality racing and cruising yachts. In 2007 the X-55 was named European Yacht of the Year and in 2019 the updated Xp-55 was named Sail Magazine Best Boat winner.
Key dimensions of our boat are: length 16.7 meters, beam 4.5 meters, depth 2.9 meters, mast height 28 meters, displacement (loaded) 21,000 kg.
In February 2019 we saw a well maintained and lightly used 2007 X-55 located at the X-Yachts facility in Denmark. This was the opportunity to purchase the boat and have X-Yachts make some modifications and upgrades in time for us to begin our live aboard voyage.
By August 2019 X-Yachts had completed an extensive refit and additions including new: main engine, watermaker, standing rod rigging, furler boom carbon mandrel, added inner forestay, aft bimini with integrated soft solar, dodger, inverter/charger, Watt&Sea hydro-drive, batteries, electronics, sails, running rigging, communication equipment, large screen TV, stereo and many other additions.
The boat is a beautiful, strong performance cruiser in excellent condition. In the 2019 ARC (Atlantic Rally for Cruisers) rally fo 230 boats, Verbena was the first boat to finish with kids aboard and second place in Class A. The boat is setup for everything from worldwide live-aboard double-handed offshore sailing to coastal cruising to inshore/offshore racing.
Here are some photos of the boat and the current equipment details.
Deck and Hull:
Hull Color: White RAL 9010 / Waterlines: Dark blue RAL 5011
Teak on side deck
Teak deck house center

custom Tan sunbrella beige 37-341 bed cushion (NEW 2019)

Bimini, beige 37-341 (easy deploy and retract while sailing or at anchor)
Teak bracket for outboard mounted at aft pushpits
IMX 70 wheel pedestal instrument boards (NEW instrument boards 2019)
Carbon wheel instead of stainless steel (2 pcs)
Cockpit light, red LED mounted two in front cockpit, two behind wheels
Viking life raft, inspected and certified 2019
NEW 2019 Sprayhood/dodger in beige (design modified for improved sightlines)
NEW 2019 Aft Helmsman Bimini with integrated removable soft solar panels
NEW 2019 seals between skylight and deck on skylights
NEW 2019 Polish and wax hull and deck to like new condition
Sail Handling:
2 x electrical Andersen 72STE Genua winches

Stainless steel control buttons

2 x electrical Andersen 68STE mainsheet winches

Black control buttons mounted on pedestals

2 x electrical Andersen 52STE halyard winches

Stainless steel control buttons

Open halyard sheaves (100 MM) – one each side
Sails:
Gennaker G2 with snuffer, well maintained excellent condition
Spinnaker S2 with snuffer, well maintained excellent condition
NEW 2019 Mainsail – North Sails Boom furling NPL Tour UltraX
NEW 2019 108% Jib – North Sails Furling Jib with Battens NPL Tour UltraX
NEW 2019 A3 – North Sails A3 Asymetric NorLon NY150
NEW 2019 Staysail – North Sails Inner Jib NPL Tour UltraX NorLam, including integrated inner forestay cable, halyard lock halyard and deck tensioner
Mast & Rigging:
Spinnaker equipment, complete with carbon pole stowed on mast, extra long track
Furler boom infusion moulded carbon/fibreglass shell with carbon mandrel
Reckmann RS2000 below deck jib furler
Triple spreader carbon mast, white painted, Nordic Mast
Mast (P=22.35 m, IG=23.25 m)
Mast prepared for top halyards
Carbon white painted mast bracket for 5 x 30/30 displays
Mast jack system including internal jack
Sea-Me active radar reflector
Windex VHF antenna with FM filter
Integrated boom LED cockpit light
Integrated spreader mast LED lighting
NEW 2019 Install inner forestay including mast and deck attachment points and checkstay equipment. Cable integrated into North Sails staysail.
NEW 2019 rod rigging
NEW 2019 running rigging:

Main halyard, genoa Halyard, Spinn pole down, genoa sheets, genoa car, main sheet, vang, jib furler line

NEW 2019 Install Port and Starboard preventer line ends run along boom
NEW 2019 LED Tricolour/all white top light
NEW 2019 LED combo deck/steaming light
NEW 2019 rope hangers on bulkhead in forward sail locker
NEW 2019 2 pad-eye port/starboard for preventer system block mounts
Guard rail / Anchor / Stainless Steel Fittings:
Stainless steel protection rail mounted on rounded sheerline
Mechanical operated, deck recessed, hinged anchor launch system
75 m chain
Lofrans' Project X3 windlass

NEW 2020 wired controls at bow

Anchor chain counter and controls with display mounted on Starboard pedestal
Danforth secondary anchor with 60 m lead inlay anchor rope
NEW 2019 Delta 55 lbs anchor
NEW 2019 spliced to anchor chain additional 100 m lead inlay anchor rope
Port-lights / Extra Canvas / Cockpit:
Canvas cover for carbon wheels and IMX style pedestal boxes in beige
Teak Cockpit table with dedicated cockpit storage space
Winch covers
NEW 2019 Cockpit table canvas cover
NEW 2020 foredeck canvas Bimini/hatch-covers
NEW 2019 beige Cockpit cushions with back-rests and rail mounts
NEW 2019 coach roof mattress, colour sand
Engine:
3 blade feathering propeller with shaft drive type
NEW 2019 Yanmar 4JH110 115 Hp Common Rail engine. 4-cylinder & turbocharged with an air cooler. Improved fuel efficiency and emissions over standard engine.
NEW 2019 Yanmar C30 engine control panel
Tanks / Plumbing:
Holding tank, self draining front toilet
Diesel – 2 storage tanks and 1 consumption tank for a total of 620 L capacity
Water – 2 storage tanks for a total of 490 L
Complete aircon system in all cabins and saloon (10k+6k+6k BTU), reverse cycle for heat

NEW 2020 230v salt water feed pump

Automatic switch on electric bilge pump

NEW 2019 Keelsump pump and automatic switch

Extra manual bilge pump
Wash down pump in anchor well connected to salt and freshwater
Shower with hot/cold water in cockpit
NEW 2019 Spectra Newport 700c watermaker 24v produces 130 lph
Electrical:
Special 115/230 and 50/60 Hz electrical system installed – ready to plug in anywhere
5 x 230v AC sockets
Diesel generator Panda 6.5 kW (1225 hours)
NEW 2019 Hydro-generator – Watt & Sea cruising 600 (600 W) with Bluetooth app display
NEW 2019 Mia Sole 125 CIGS solar panel on top of helmsman Bimini
NEW 2019 Victron SmartSolar charge controller with Bluetooth display app
NEW 2019 8 x 115A gel deep cycle batteries for domestic use 24v
NEW 2019 1 x 50Ah Maxxima start battery
NEW 2019Mastervolt Mass Combi 24/2600-60 Inverter/Charger
Entertainment:
2 x JVC salon speakers
2 x Bose 131 cockpit loudspeakers
NEW 2019 Fusion Apollo MS-RA770 Stereo
NEW 2019 Fusion MS-NRX300 wired remote at Starboard Helm
NEW 2019 Samsung 49" 4k 'The Frame' flat smart TV with art display on main bulkhead
Electronics:
1 x Halcyon compass
Upgraded B&G Vertical 145 cm wind transducer
NEW 2019 speed/depth transducer
NEW 2019 B&G Radar Broadband 4G mounted on first spreader
NEW 2019 B&G H-5000 Autopilot
NEW 2020 Jaffa Steering 24v DU-TS6-24 autopilot motor
NEW 2019 B&G Forward looking sonar
NEW 2020 B&G NAIS 500 Class B AIS transceiver
NEW 2019 Sailmon E4 silver processor
NEW 2019 B&G V90 black box VHF with wired handset & loudspeaker at chart table and second wireless H50 handset and loudspeaker connected to V90 at port helm
NEW 2019 B&G Triton2 display
Nav Station:

Simrad i50 AIS unit at nav station

NEW 2019 B&G ZC2 remote at chart table and connected to starboard helm Zeus3

NEW 2019 Samsung 24" monitor for computer and Zeus3 repeater

Mast display units: 5 x B&G 30/30 displays
Coachroof over sliding hatch display units:

2 x B&G analogue wind (360 and close hauled)

Starboard Helm Electronics:

Main sheet starboard electric winch controls

Anchor chain controls and counter

NEW 2019 Compass Silva 100BH Illume

NEW 2019 Fusion MS-NRX300 wired remote

NEW 2019 H5000 pilot key-pad

Port Helm Electronics:

Main sheet port electric winch controls

NEW 2019 Compass Silva 100BH Illume

NEW 2019 Triton pilot controller
Wifi / Cell / Sat Communications:
NEW 2019 Scanstrut antenna pole at port stern
NEW 2019 Thales VesseLINK for Iridium Certus satellite voice/data communications
NEW 2019 Bullet wifi extender
NEW 2019 Pepwave BR1 cell/wifi router
NEW 2019 Mobilemark 4 in 1 LTM Antenna (external wifi, cell, gps antenna)
NEW 2020 Redbox boat network (cell/wifi/sat) selector
Thursters:
Retractable bow thruster, VIP 150-24V with control mounted at engine panel recess
NEW 2019 6 blade propeller instead of standard 3 blade
General / Cabins / Heads:
Woodwork finished in teak with hand polished satin finish
3 x cabins, 2 aft with added pipe-berths
Leather in saloon – Colour – Elmosofft Beige 02048
Cabins: Alsace Blue 010
All berths have batten system and spring mattresses for improved comfort
3 x heads, forward and starboard with separate showers
Port aft head removable s/s bar for hangers (good as a wet locker offshore)

NEW 2019 manual toilet pumps

Red night light in saloon 3 on starboard side, 1 at galley
Dimmers on saloon lights circuit
Oceanair integrated screens and blackout curtain on all 4 skylight hatches
Curtains on all side ports
NEW 2019 Sirocco Gimbal Fans. 1 in each cabin, 1 in salon area and 1 in galley
NEW 2019 Double USB sockets 1 in forward cabin 2 at nav station
NEW 2019 – 30+ interior lights changed to LED
NEW 2019 Extra shelves in aft cabin closets
NEW 2019 Additional towel racks in all heads and hooks in cabins
Saloon / Nav station:
NEW 2019 Nav station integrated Samsung 24" monitor for computer and B&G chartplotter repeater
NEW 2019 custom shelf under LCD screen designed and built by X-Yachts
NEW 2019 lech cloths port and starboard in saloon
Galley:
Eno 3 burner 1 oven gas cooker
Foot pump for freshwater
Electrical gas switch
Gas detector with alarm
Isotherm 85L fridge, front opened
Isotherm MAGNUM 2507SP fridge/freezer top opening box
Galley teak rail with S/s chafe strips on top of galley counter tops
NEW 2019 Extra teak fiddles in cabinets
NEW 2019 s/s paper towel rack in galley
NEW 2019 Additional Isotherm Cruise Classic 65L fridge
NEW 2019 Seagull X-1F purifier unit connected to existing cold water pressure system