This will be our final travel update. With all the uncertainty of the year, we can't be more pleased with how it all turned out.
On March 12th, we had entered French Polynesia on a 3 months visa. We were able to received two 1 month extensions, but when receiving the last extension we were told in no uncertain terms, no more.  As far as the French Polynesia government was concerned, we could leave our boat, but our family must exit the country by August 12th.  On Aug 11th, as we had arranged, we loaded Verbena onto a Seven Star transport freighter and that night we flew from Tahiti to San Francisco.
We stayed with Renee's sister in San Fransisco area for a few days and then headed back to Boston. After being away so long, it was nice to have this mini-land based visit before fully acclimating back into our Boston land life.
We had rented out our house while we were away, so for a couple weeks we got everything back in order while also enjoying social distance catching up with friends and family.  A morning ocean dive, majestic sunset or discovering a new port weren't our daily routine anymore, but it was nice to not have to worry about your home floating away or the endless list of boat projects. Land life felt easy and we were enjoying it.
One of our first visits was to see Freckles, the cat we left behind with friends. Freckles was happy to see us, but she was also super happy at Bryan and Anne Marije's Marblehead home. Our friends have a large yard with birds and squirrels to chase and a dear dog to protect her from unfriendly foes. We had always thought we'd be taking Freckles back, but after seeing her so happy – and Bryan and Anne Marije so happy to have her, we decided it wouldn't be right to bring Freckles home.
Next we set off on a family road trip to Wilmington North Carolina to meet Verbena when the transport freighter arrived. Our plan was to sail Verbena 700 nm back to the northeast USA as a family, then cruise our favorite New England ports south of Cape Cod Canal. We had time because Vera and Ben's school start had been delayed to the end of September due to covid and it wasn't clear if school would be remote or hybrid in person once it began. Our broker, Bob Rodgers, had lined up a few people to come see the boat once we got it to Mystic so we were balancing wanting to get to Mystic but also enjoy some final cruising aboard Verbena.
The road trip was great. We visited spots we had never seen, ate some fantastic bbq and checked out an Italian Water Dog puppy on the way. Possibly getting a dog upon our return had been an endless topic of discussion among the kids during our boat life. With Freckles now not coming home, a dog seemed more and more inevitable.
Just as we are about to unload the boat from the transport ship in Wilmington NC Bob Rodgers told us a buyer had put an asking price offer on the boat, sight unseen.  We accepted the offer with a plan to complete the sale after the boat arrived in Mystic.  This was great development and helped justify many of our earlier choices between leaving the boat in Tahiti, sailing to the west coast or shipping the boat back to the east coast.
Then the weather started not cooperating. Large storms from the west and hurricanes from the east came one after another along the US east coast. We managed to move the boat from Wilmington to Beaufort NC in a rough overnight passage, but then we were then stuck for what turned out to be three weeks before the weather pattern would improve.
It became clear we wouldn't sail back to New England before the kids had to start school. Renee and the kids flew back to Boston and I stayed with the boat, waiting for decent weather to do the 3 day passage to Mystic Connecticut.
Verbena dockside in Beaufort, NC waiting on weather to head further north

Vera and Ben happy this is their last cleaning

A broken windvane and why our wind instruments stopped working

Goodbye photo in Beaufort, NC

The boat ripped apart fixing things after the family headed out.

View aloft replacing windvane
That Italian Water Dog puppy visit we did on our road trip; well, once Renee and the kids got home, that ended up leading to Skipper, becoming the newest member of our family.
Good weather finally came and a couple of veteran Verbena passage making friends – Scott Dinhoffer from the Lisbon to Canaries passage and Mike O'Brien from the Pacific passage – joined to help me sail the boat to CT.  It was a great last passage. On the final afternoon, a pod of what must have 50+ dolphins all jumping in the air passed by the boat.  Typically a set of 3-6 dolphins will come play with the boat for a while but this pod was on some type of ocean mission. They crossed the boat and then swam away; in the distance their spouts looked like the water fountain at the Bellagio in Las Vegas.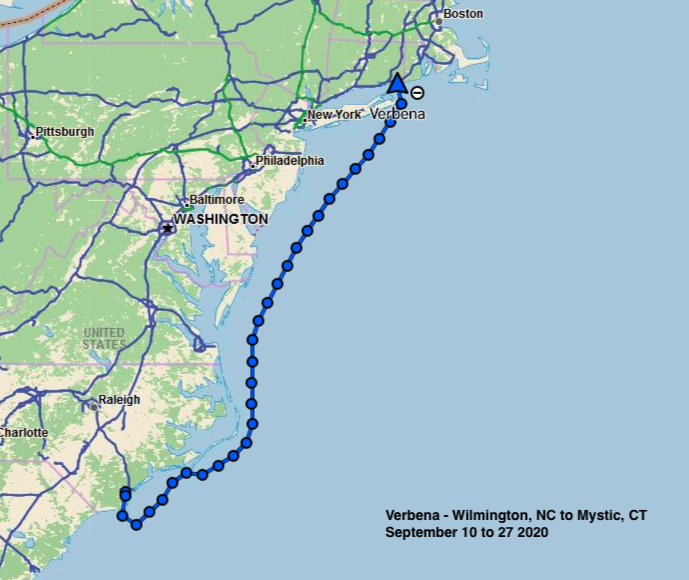 We arrived in Mystic right at the end of September and prepared the boat for sale, unloading our years worth of stuff, taking care of a few known maintenance items – bow thruster, bottom paint, cushion repairs, and having the boat surveyed and sea trialed. Thanks to remote school, Vera was able to join as a helpful mate for the sea trial day. By early November the sale was complete.
The new owner, Jim, is taking Verbena up to Front Street yard in Belfast ME for the winter. I joined him for the sail from Mystic, CT to Newport, RI. It was all I could ask for in a bon voyage sail. The seas were flat with the wind was from the starboard aft quarter 10-18 kts. We set the asymmetric kite and blasted our way to Newport. I will miss the boat for sure, but am glad to get to know Jim in the process.
I will forever be grateful for my families year at sea. We traversed one thin, shallow line across the planet, yet each mile and each day left a deeper dent in our psyche.