When we hatched the plan of starting from Denmark one challenge was packing for the trip, especially with the boat so far away.  There was all our personal gear, sailing gear, living items and boat operation items. 
We shipped a large container about 6 weeks before we left with anything that we could think of that wouldn't fit in a suitcase – such as two bikes, an outboard engine, our dinghy, the kids school books, etc.
Today we put all the thinking about what to bring/not-to-bring behind us.  "We get what we get and we don't get upset." Or, more accurately we get what we get and if we need something, we have to find and purchase it.
For our personal items, we were limited to one large duffle plus a carry on a piece. Here's some of the favorite things each of us brought.
Bill:
Lucky Voodoo doll (pictured above). When Renee and I sailed Vanish for a year, 15 years ago our friend Rohi came back from a trip to New Orleans just prior our departure. On his trip he saw a shaman and told him about our travels. The shaman gave him a voodoo doll for us to take with us. We made it through several storms and a successful trip. I don't know if I am a believer, but I wasn't going to do this trip without our lucky voodoo doll.
A North Face Apex Flex and North Face Thermoball vest. I had a gift certificate to North Face and the day before leaving Boston I headed out to spend it. Until we get to the warm waters of the Canary Islands, I think I'll be living in these jackets.
Two technical T-Shirts I've been sailing in for years. One is from my racing days on the J/44 Brown Eye Girl. It must be 15 years old, but it still feels nice and reminds me of some good offshore sailing times. The second one is a long sleeve T-Shirt made for a group charter 9 years ago to race Kialoa V in the St. Marten Heineken regatta 9 years ago. It has a fair share of stains, but I couldn't think of doing a sailing trip without it.
Microscope and water testing gear. We are bringing items to do some citizen science on the waters we sail through from Northern Europe to Australia. We'll be looking at water chemistry, zooplankton varieties and microplastic levels. Thanks to SEA Association, Woods Hole Institute and Vera/Ben's elementary school science teacher Tooey Rodgers for helping us put all this together.
Renee: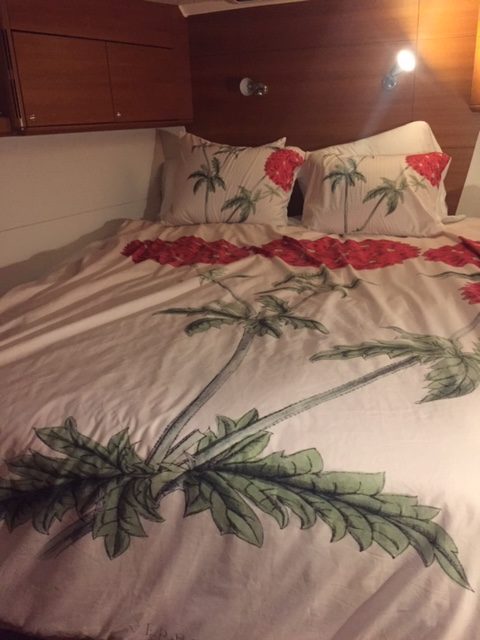 My yoga mat! Hauling sails and gear, living and sleeping in confined spaces (with teens and pre-teens). Physical and mental must.
Music/playlists. A night watch can be a long and lonely few hours or it can be a new appreciation for listing to an entire album.
Verbena duvet cover!
Other Verbena gear. Verbena water bottles, mugs, dish towels, blankets and shower gel and lotion. I just love a theme!
Ben:
Little Dude. A little guy figure who is looking suave. Little Dude also has mad skills because his lower half weighs more, so when he falls he always rolls on his feet. He will make for a natural sailor.
My comfy blanket. It is so nice and fluffy.
My river raft that I got as a birthday present from my friend Dane.
My new kindle.
My nice Celtics speaker. My dad got it as free swag from somewhere and I got it as a gift. I can put it in the water holder of our fold up bike and play music as we go on ride.
Vera:
My camera so I can take pictures of things I think are cool and want to remember. I haven't gotten to use it yet because we are in Denmark and I have pretty much only been to grocery and marine stores.
I brought pictures of a lot of my friends that I printed on polaroids and hung around my cabin. I think it looks cool and is a good reminder of Boston and the friends that I miss. It also makes my cabin very artsy. I was able to buy some fairy lights too which just tied it all together. 10/10 best cabin in the boat! No picture is included, you need to come visit to see it. 
My phone because of course even though AT&T is being veryyyy slow in getting me data and I don't even know how I am going to be able to use it. 
My dinner attire lol I brought three different dresses that I will wear whenever we go out to dinner which has been pretty frequently. I am on a rotation because according to my parents athletic shorts are not dressy and apparently jean shorts are too short.
My bucket hat I bought with Marin while I was shopping on Newbury and then I brought to camp. I used it quite frequently and I am very excited to bust it out on the boat. Especially because when mom is yelling at me to put sunscreen on it is a much easier option to just throw a hat on instead.