Thank you, Neptune! Our pledge to him while crossing the equator must have worked. It was a fast, 15 and a half day dream passage! We mostly had 15 knots of wind on a broad reach. Most of the time we were scooting along on a port tack. We flew our spinnakers in lighter winds and did some wing-on-wing sailing towards the end when the wind went more behind us. Seas were relatively flat seas and perhaps most importantly we had no gear failures!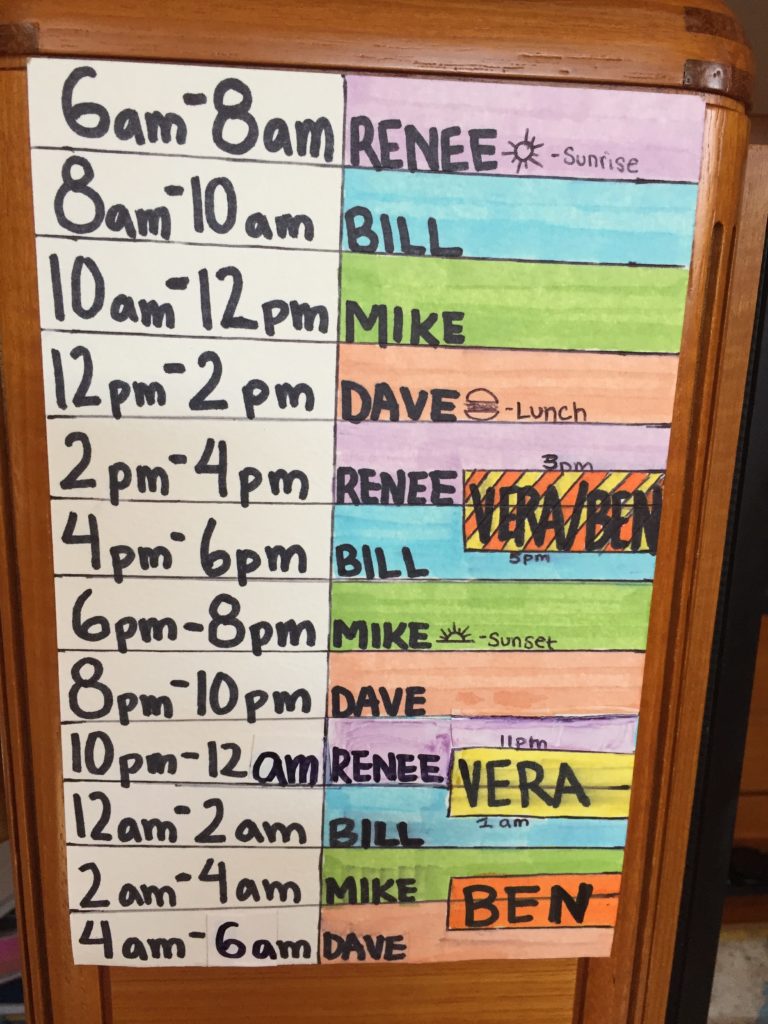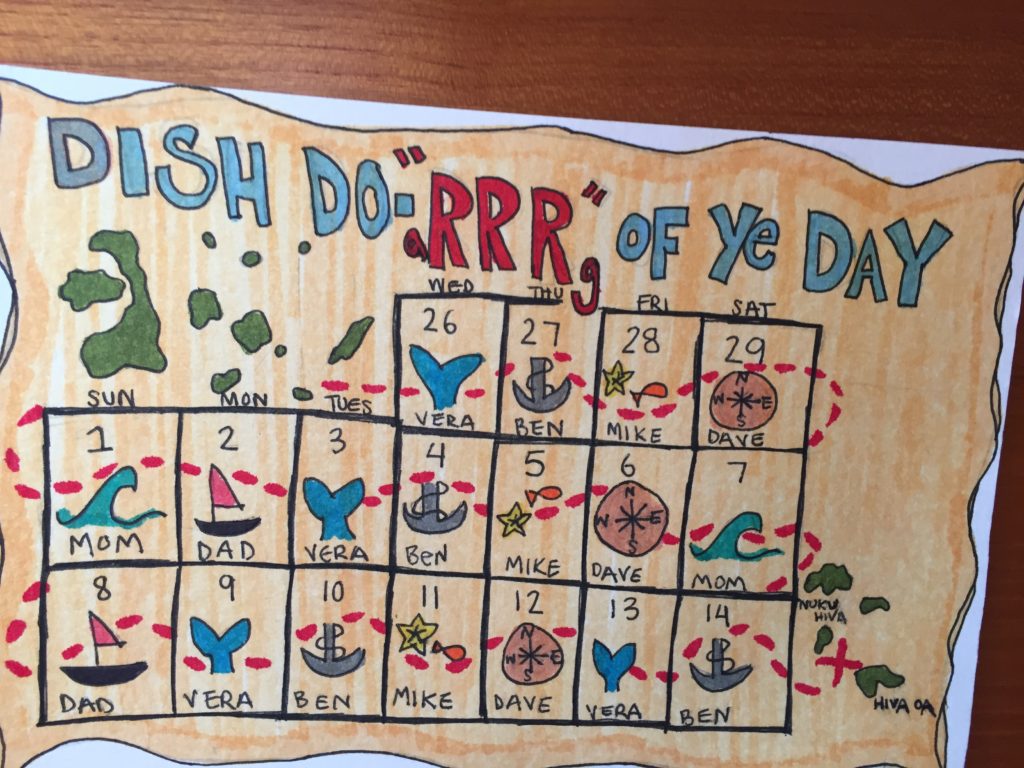 It was also fairly temperate. The sun was warm during the day, but it was much cooler and dryer than the Panama-Gal passage. The kids were able to get school work done and Bill and I actually each read a couple of books during the passage. As a group, we listened to "Lord of the Flies" read by the author around 5 pm each day.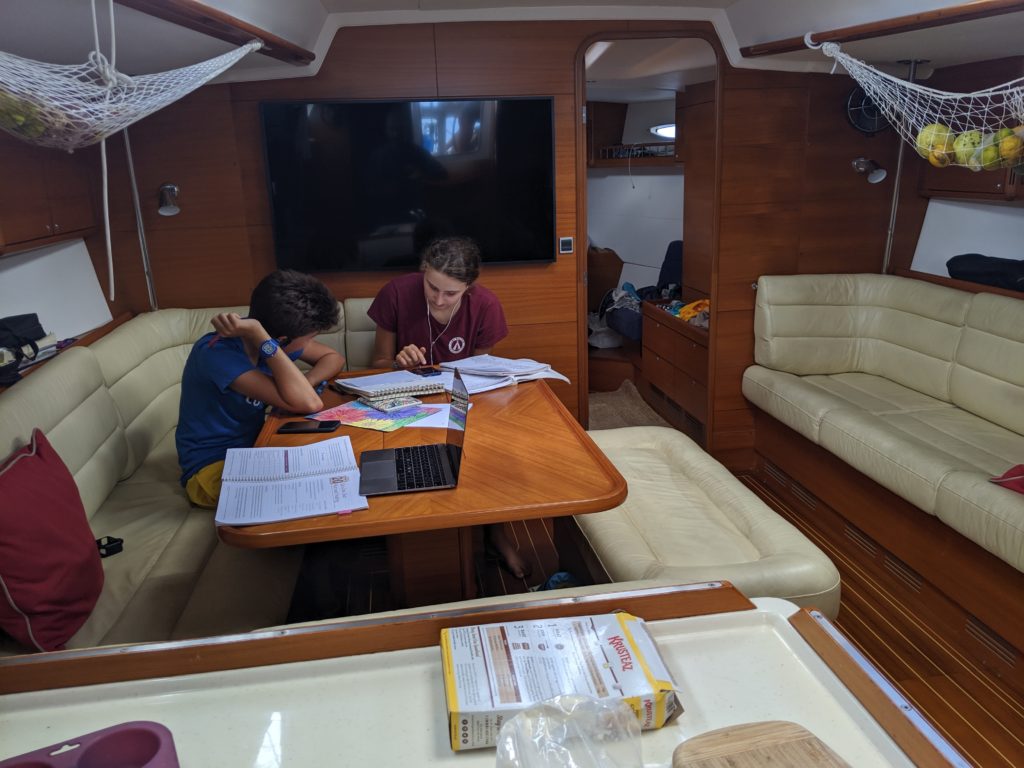 Prior to departure, Bill developed a stomach type bug in the Galapagos. We delayed our departure date from Isabela Island a day to make sure that he was feeling ok and then left the harbor mid day on February 26 with clear skies and light winds.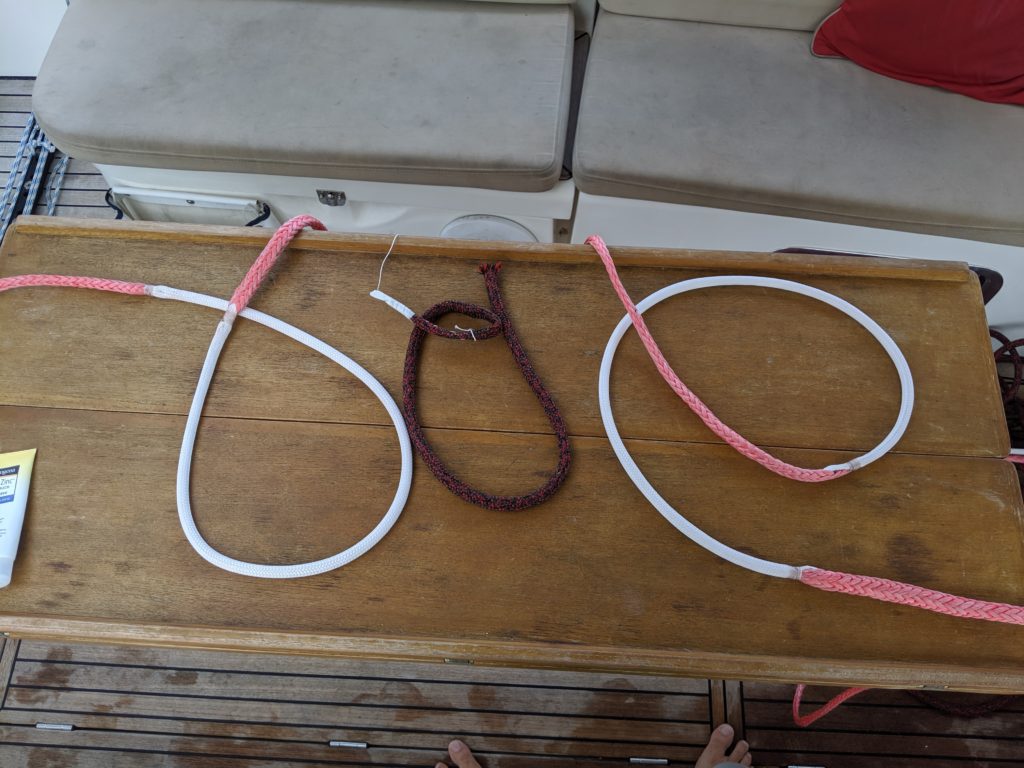 Winds started off light so we motor sailed for an hour or so, then as land faded away we set the symmetrical spinnaker. We were heading a little south of the direct line to the Marquesas to make our way south and reach the southeast trade winds faster. Before dinner, as was often our custom on this passage, we changed back to the main and jib. Bill was over his stomach bug, but Dave must have caught it and was now not feeling well. While the weather was calm we wanted him to get well fast, so gave him some medicine and adjusted the watches to take him out of the rotation.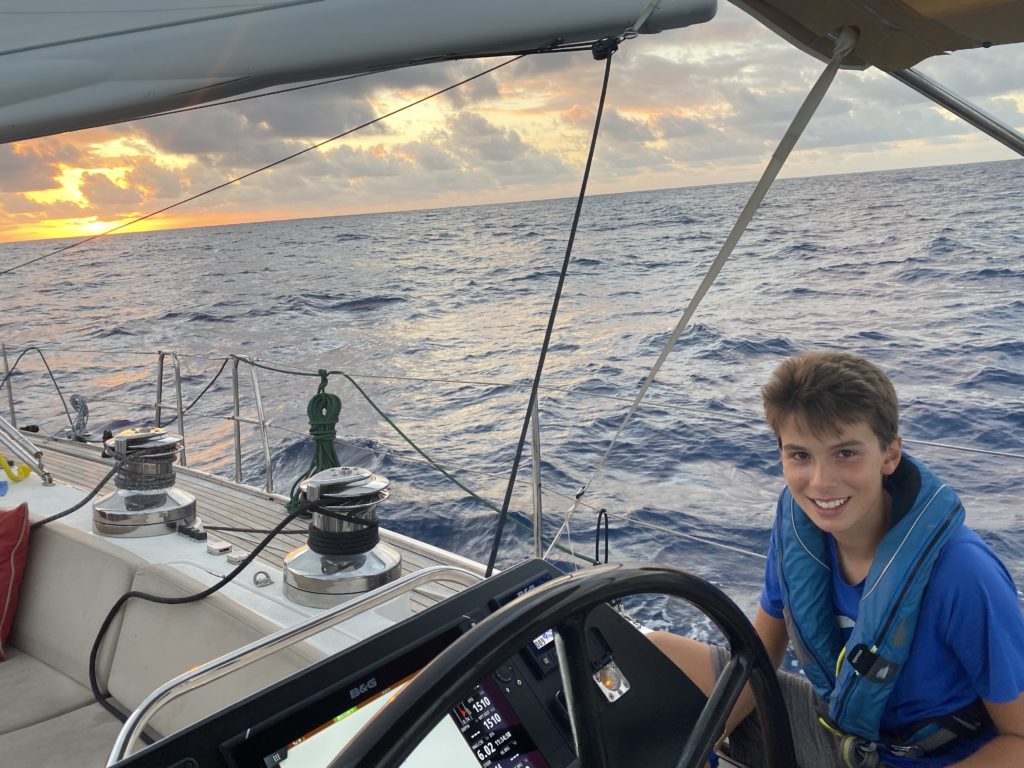 Next morning we put up the A3 spinnaker. Dave unfortunately continued to have a stomach sickness and now also a fever of 101. We continued sailing with A3, full main, calm seas and Dave out of the watch rotation.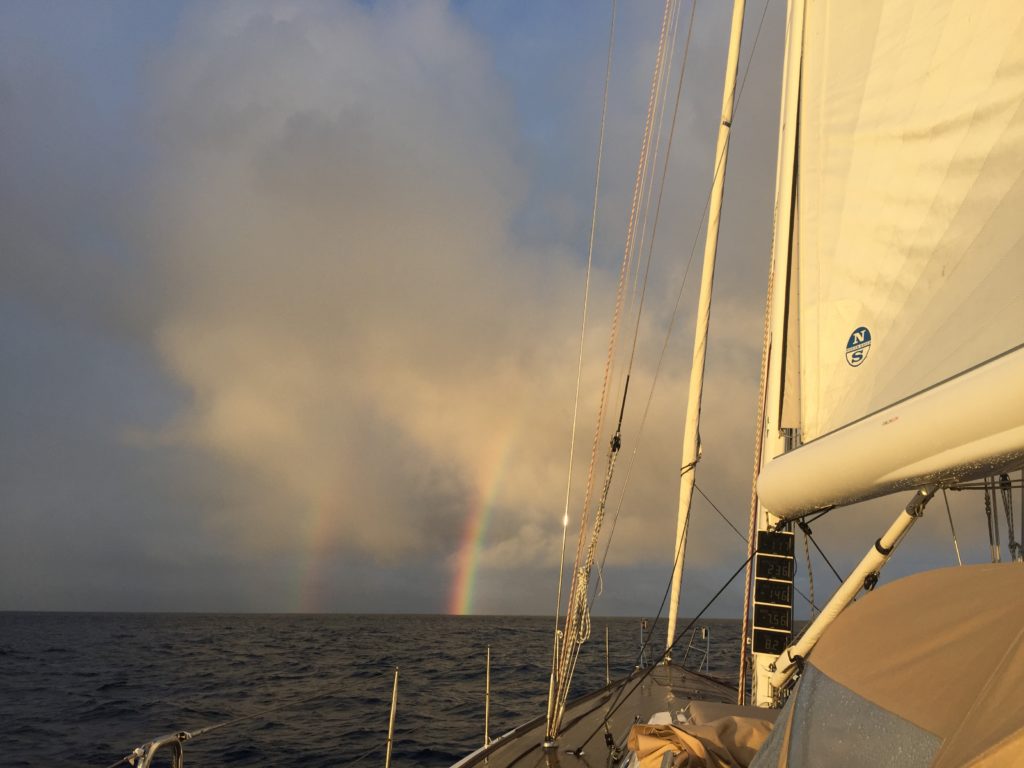 After a few days Dave went back to full strength, the wind filled in, the seas built. We reached the trades. We reefed the main before dinner and started aiming more towards the Marquesas. The night was damp and dark with 15-20 knots wind making for the start of many days of great sailing!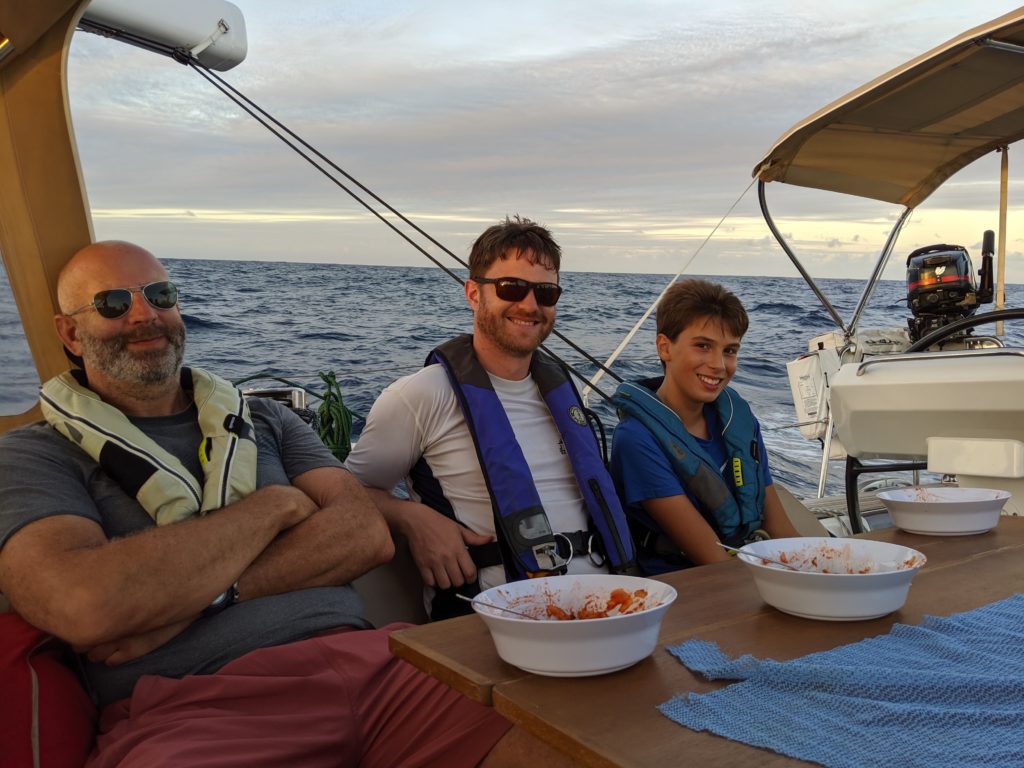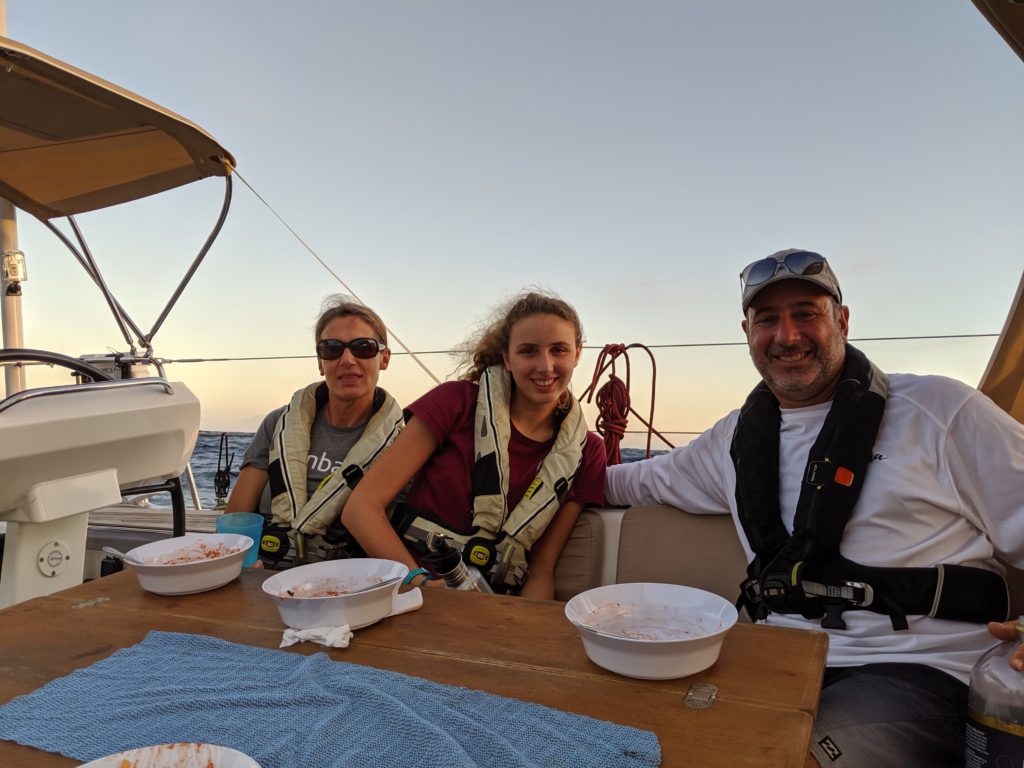 Days of broad reaching with a jib or asymmetric spinnaker blurred together into a regular routine. We did get a big wrap in A3, but were able to get it out and take it down.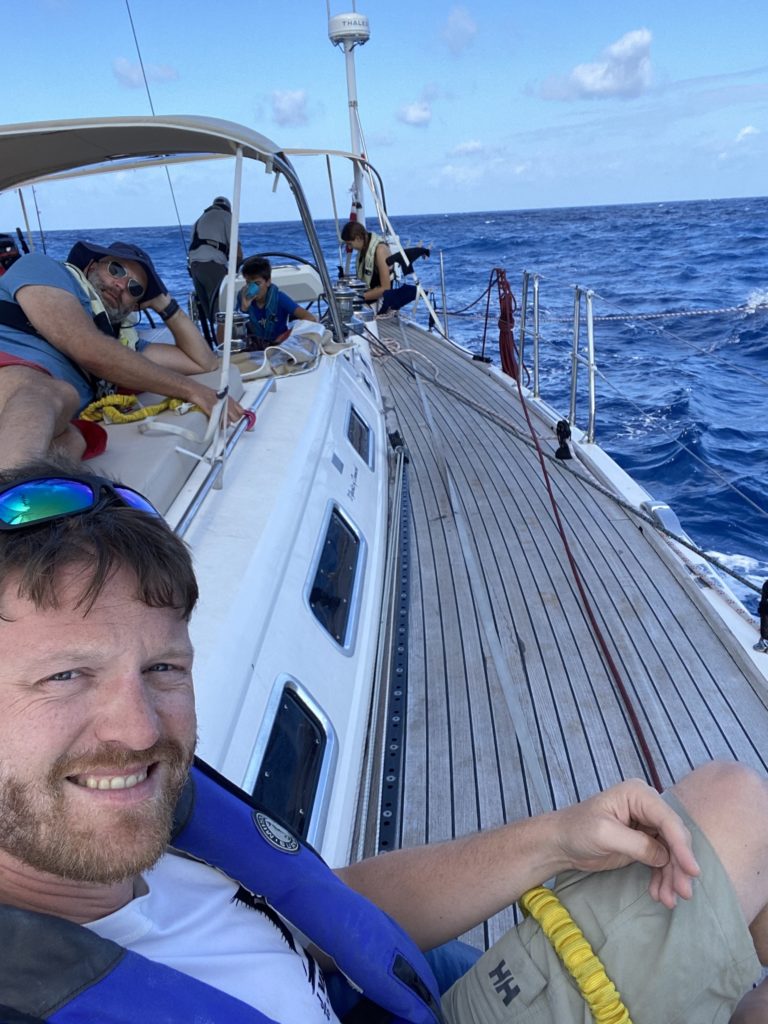 For our halfway party, we had date cookies made by Ben and delicious bean and rice burritos. We put the spinnaker pole out for wing on wing, tried it for a bit but then went back to port tack. We had some beautiful night watches with calm seas and moonlight through the boom. It was picture perfect – making up for many past difficult night watches on other passages.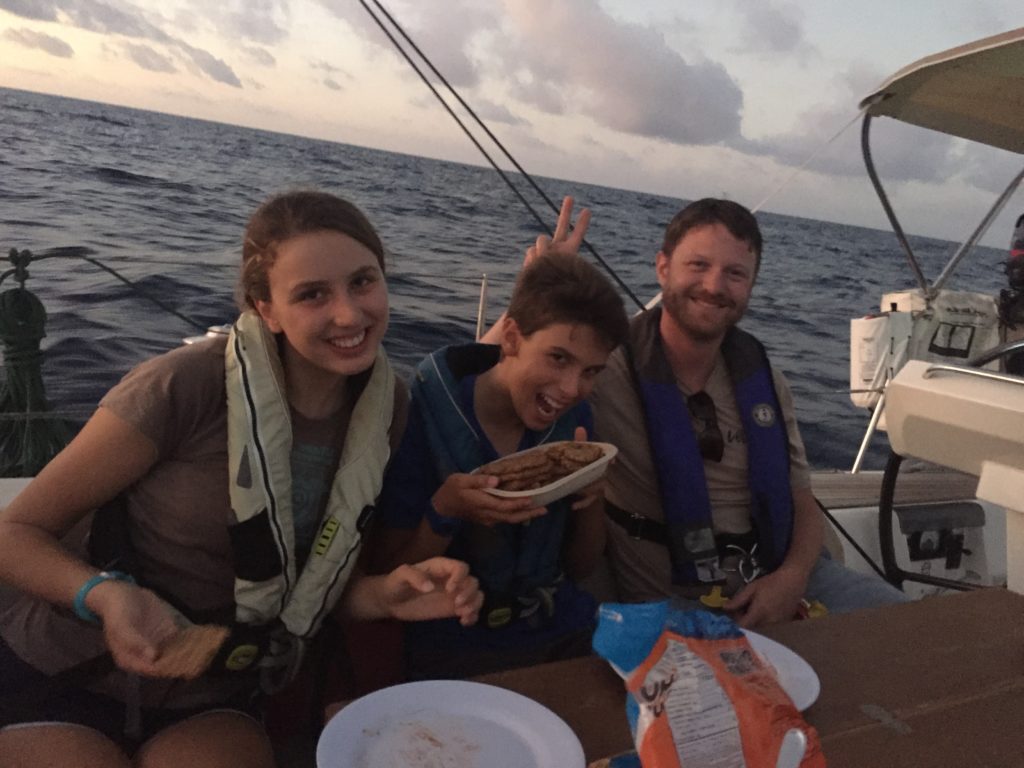 For the first part of the trip we didn't get any bites on the fishing rod. Then, about half way, we started getting bites from what must have been giant fish. We actually saw a small shark chasing the lure as we brought it in once. Multiple times, by the time we could get to the rod either the lure was bitten off or the entire line would be run out and snapped loosing all our gear. Down to only canned meat and our last bit of fishing line, we set our smallest lure. We were hoping this would help us land a smaller fish we could maybe handle with our short line. It worked! We caught a 30 lbs TUNA around 3pm! It was a delicious dinner that night and then some.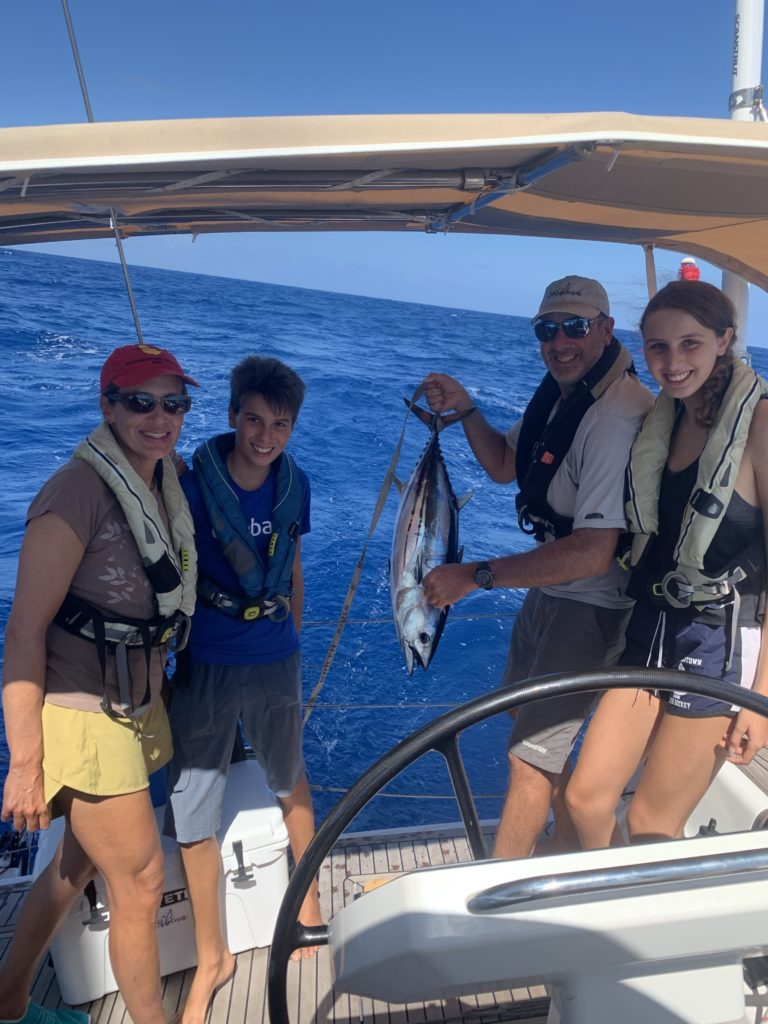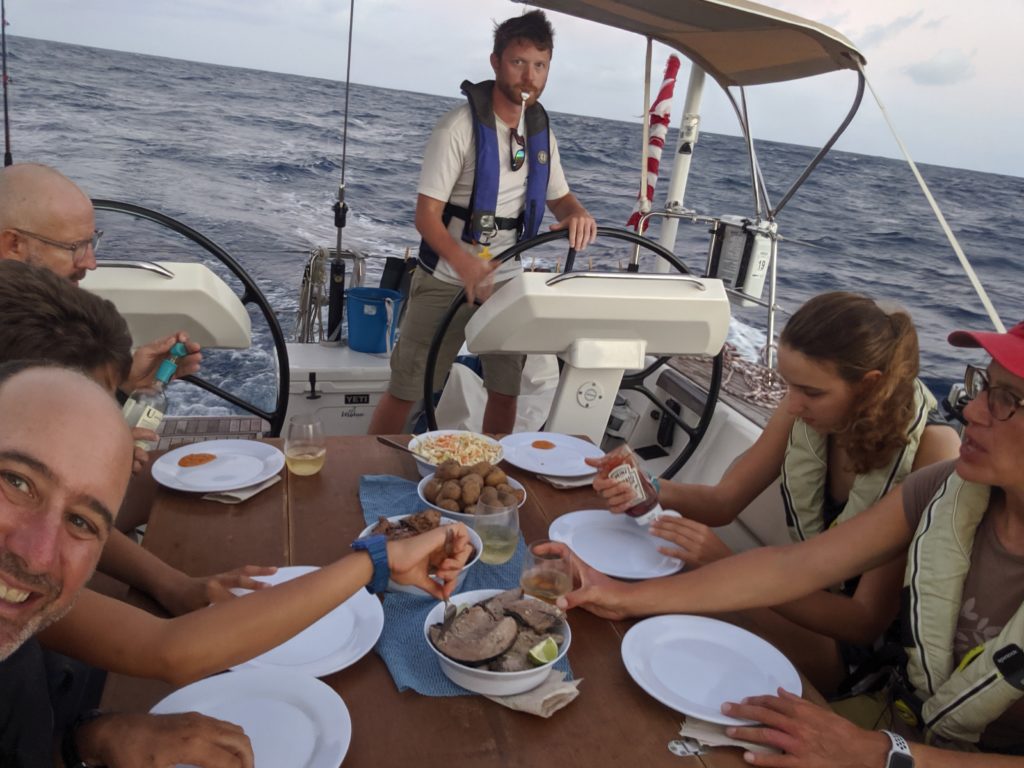 We were glad we did the provisioning in Panama that we did and caught the fish. After the first week, we were low on fresh produce and meat. Ben and I made a pound cake mix that my sister brought toward the end of the passage. We added a cut up, rogue apple and pear and some cinnamon sugar to the top so it was like a coffee cake. Big hit. I literally had to hide it overnight so it would not all get eaten on night watches.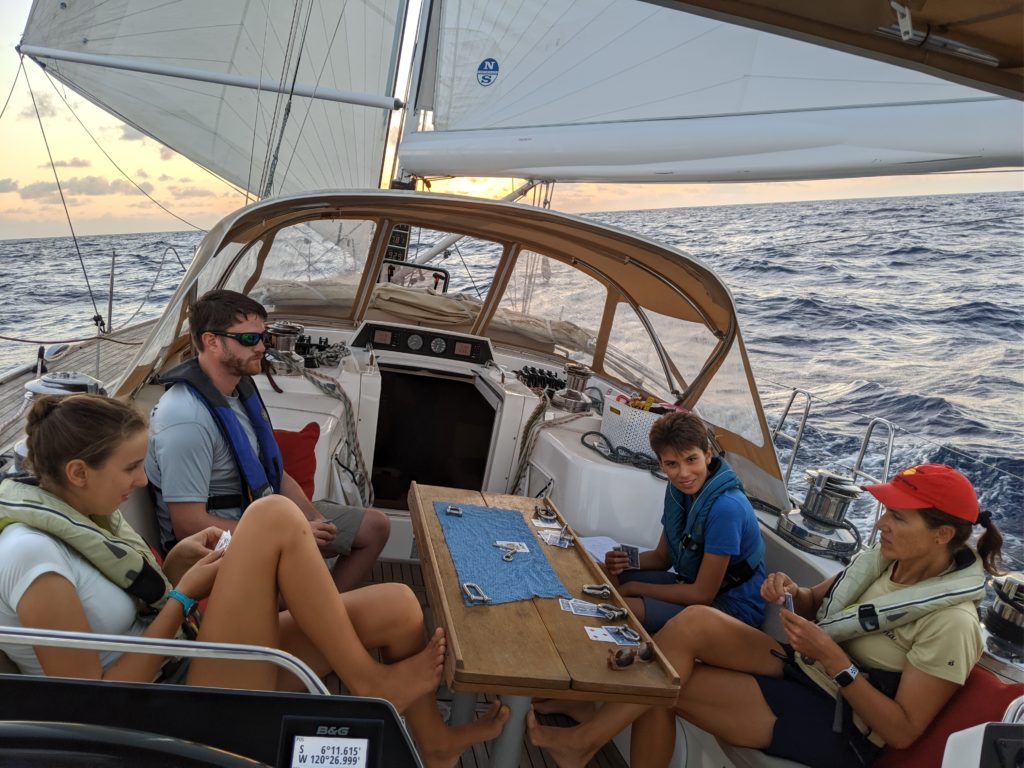 For the last week we continued sailing mostly wing-on-wing with wind of about 12-18 kts. We would go for days without seeing another vessel on AIS. Winds were lighter toward the end of the trip. Seas were calm and skies were very clear. Sometimes the clear moonlit night was like sailing through a black and white Ansel Adams ocean photograph.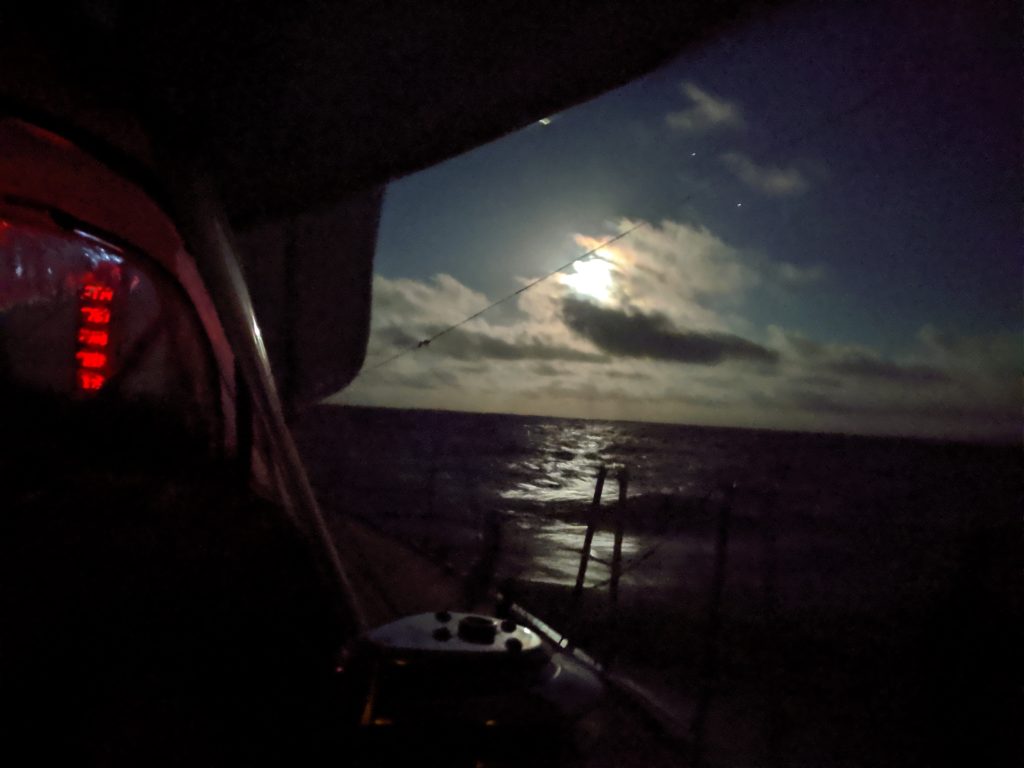 The evening around 5 to 7 pm was the time to see wildlife. We had dolphins put on a show that probably last an hour with 10 or 20 jumping and swimming with the boat. We also came upon a fish feeding frenzy with tuna jumping several feet in the air and birds and fish all swarming around. One time we saw a couple of whales not too far from the boat.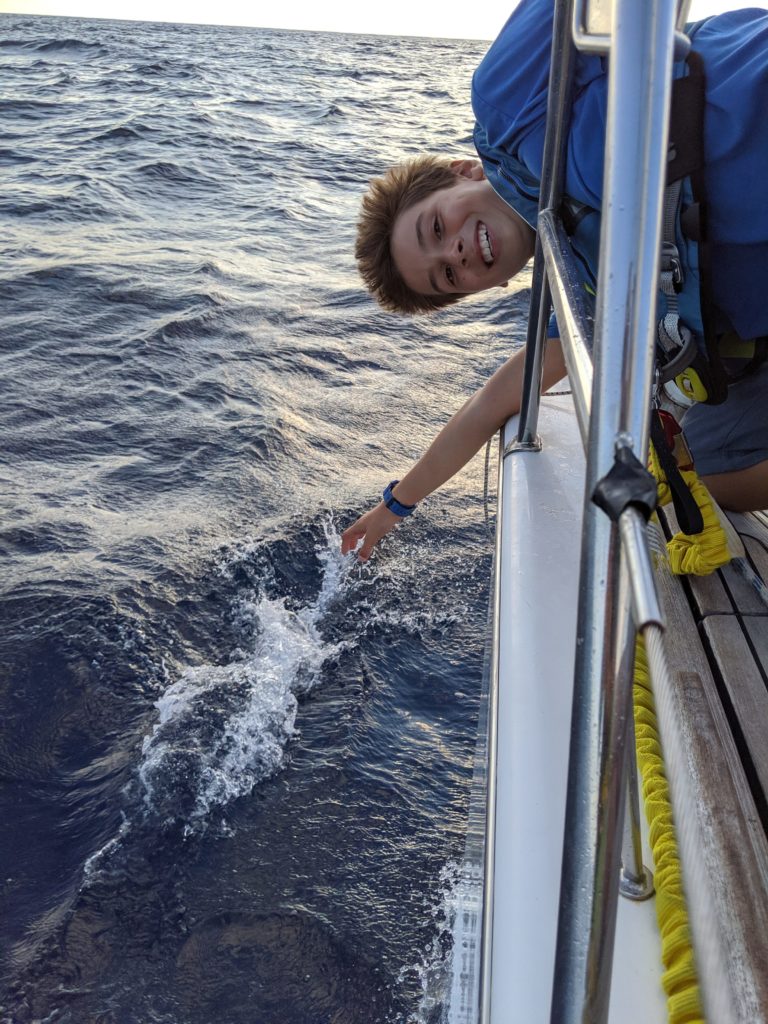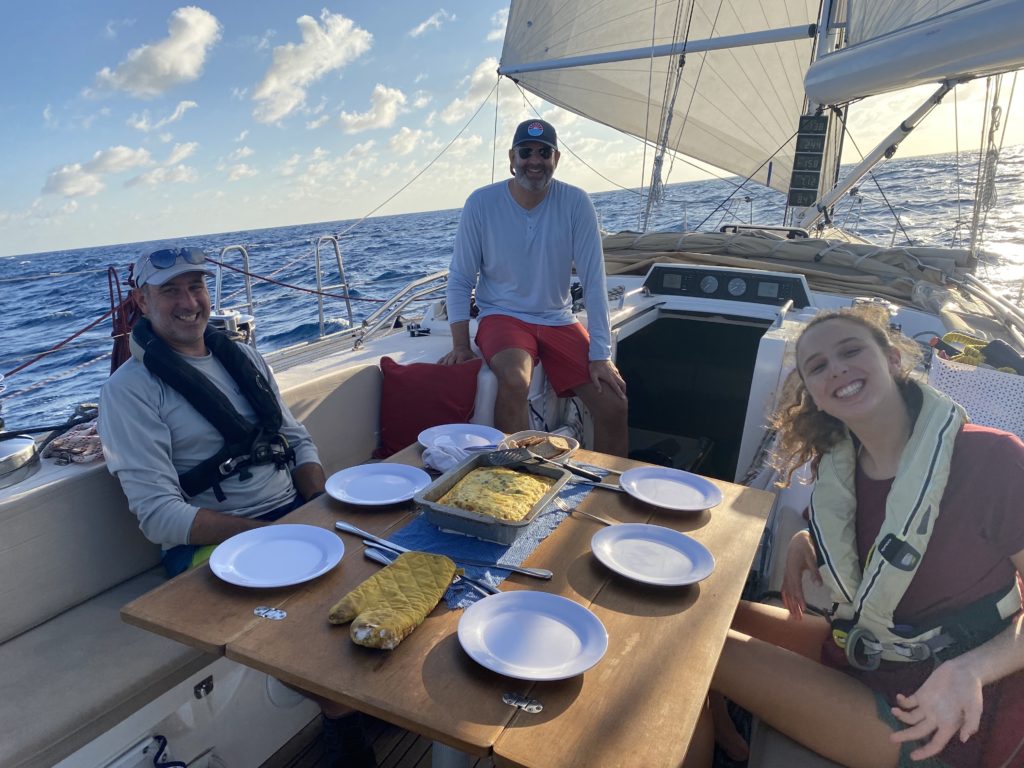 In the last 200 miles the wind started to go below 10 knots consistently and the course was dead down wind. We started motoring with reefed main to stop the sail from flapping around. It was hot, but we were almost there! We continued to motor, cleaned boat deck and put dinghy together during our last day. We sighted land at about 5:30 pm.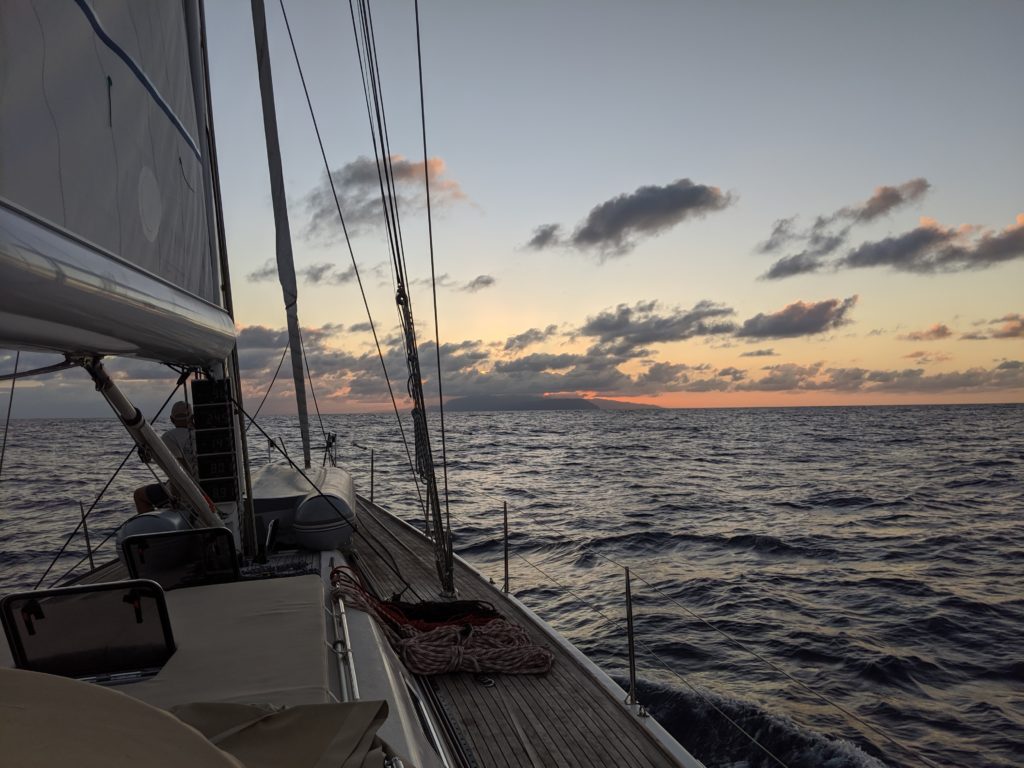 We pulled into the Hiva Oa anchorage in the Marquesas Islands around 11 pm on March 12 and anchored in the moonlight. We celebrated with some well deserved rum and beer!