Panama to San Cristobal, Galapagos, 840 nm, 5 days, 6 humans By Guest Bloggers – Beth Bushey and Elouise Reiff
Beth is Renee's sister, who enjoyed some occasional day sailing and decided to take the leap to the blue waters by joining Verbena on this Pacific passage. Elouise from Holland (not from Denmark;) became a family friend during Bill and Renee's previous sailing trip 16 years ago and spent a summer with them in Boston when Vera was 2 years old.
On the 3rd of February, Elouise arrived right at the start of the Super Bowl finals. She joined the family in a Panamanian bar watching the game and enjoying fresh ceviche with local beers while also waiting for Aunt Beth to arrive. We're not sure if the kids were happier to see Aunt Beth or the massive suitcase filled with presents and the long waited smoothie mixer and clothes.
Our adventure started off with a day-trip visiting the Emberá tribe who live in traditional villages in the rainforest of Panamá, where most of us obtained traditional (but temporary) body art. We celebrated the final days of the Verbena crew in civilization sunset happy hours at Casco Viejo's rooftop bars with great mojitos, breathtaking views and very important WiFi. As Bill would be working on repairs and downloading charts, we would continue our nightly visits in town with local Panamanian dishes at Cafe Rene and Lo Que Hay.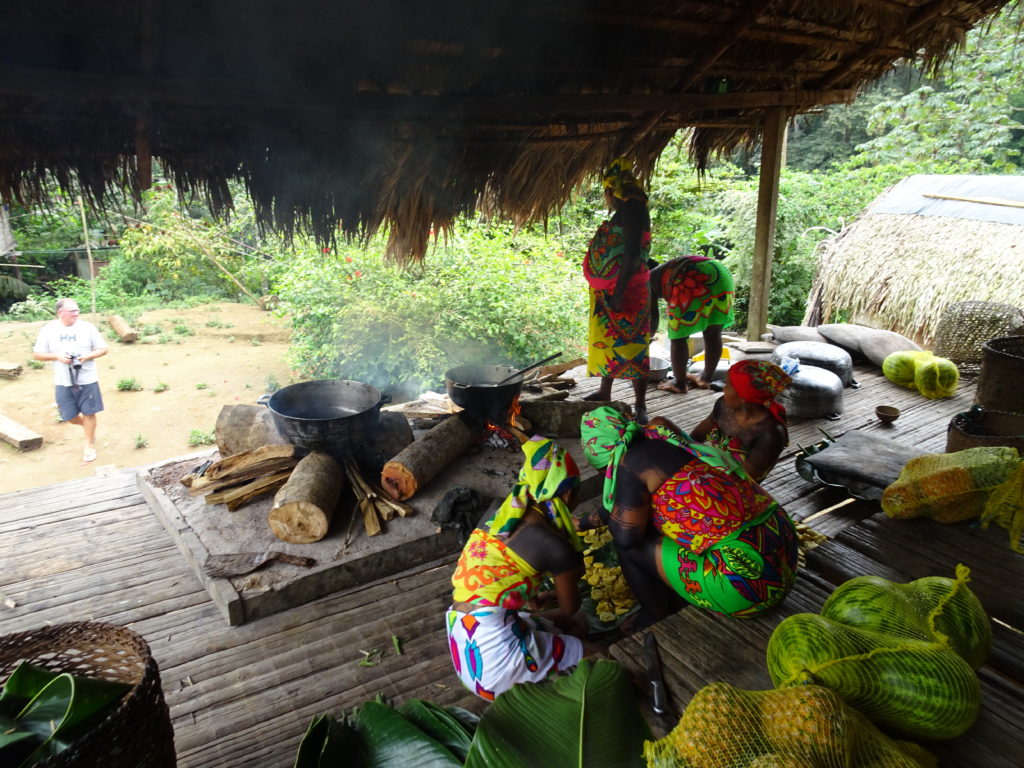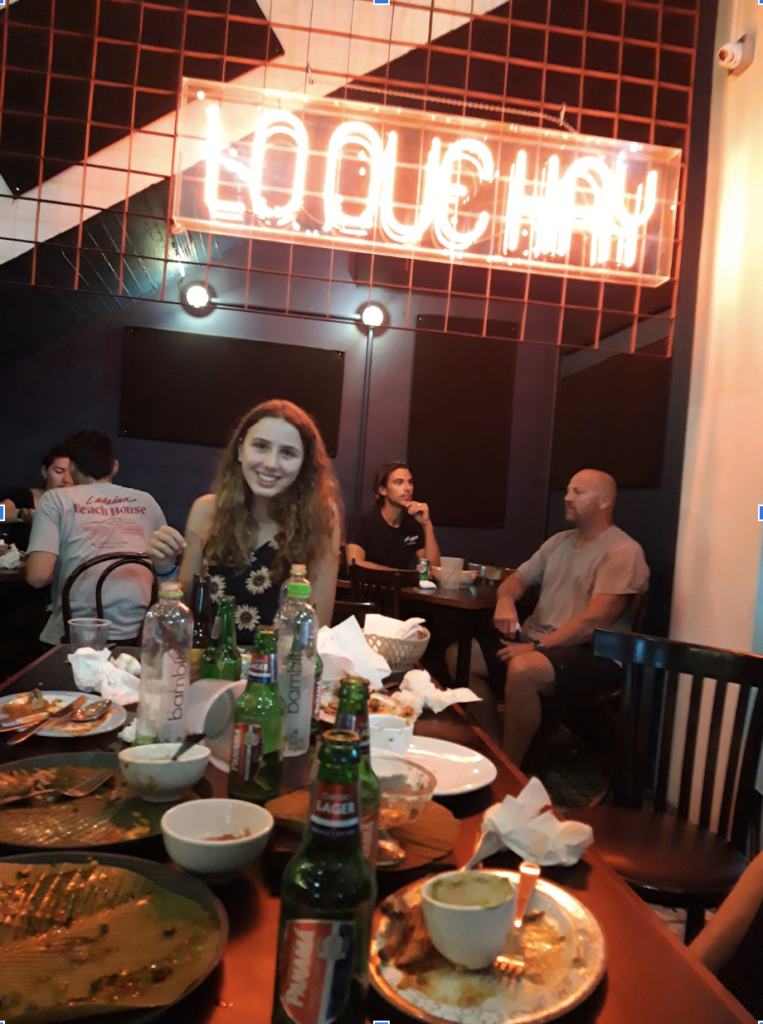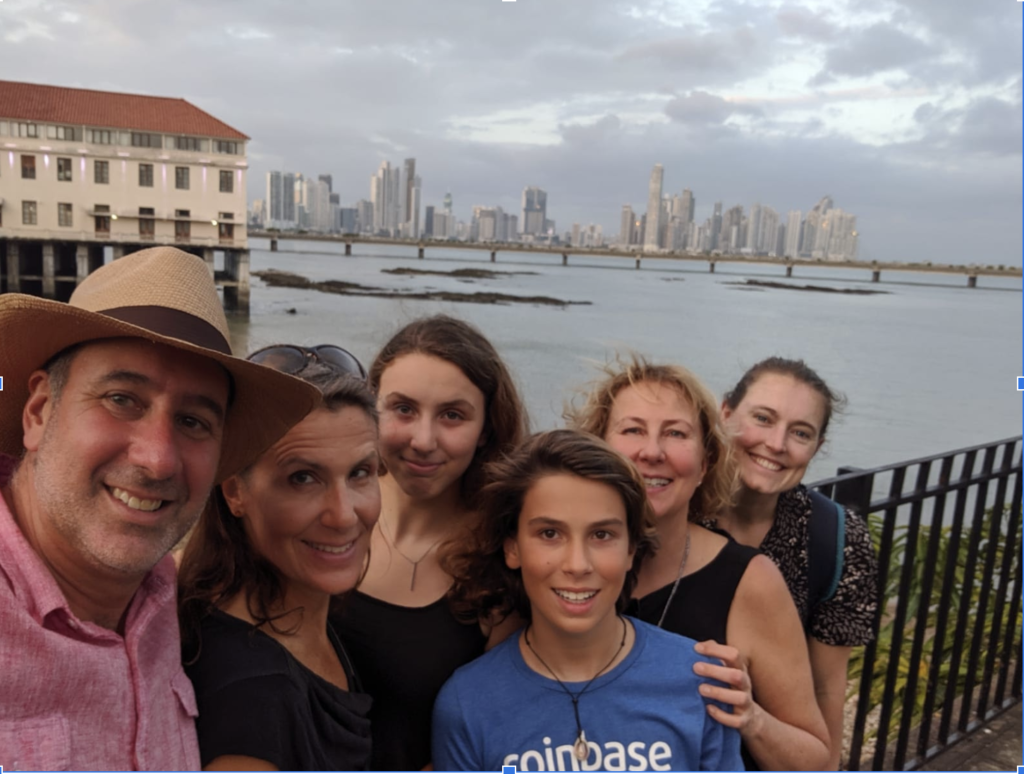 We left the skyscrapers of Panama city behind us and headed towards the Islands of Las Perlas. From Panama City, we sailed out of the Bay and spent a couple of nights off Contadora Island. We had our culinary high point of the crossing – fresh self caught Mahi Mahi! And an equipment set back when we lost an important pin for the spinnaker. Bill and Elouise carefully calculated its likely location, hired diving gear, but their search was in vain. (two new parts are on their way with the next crossing sailors)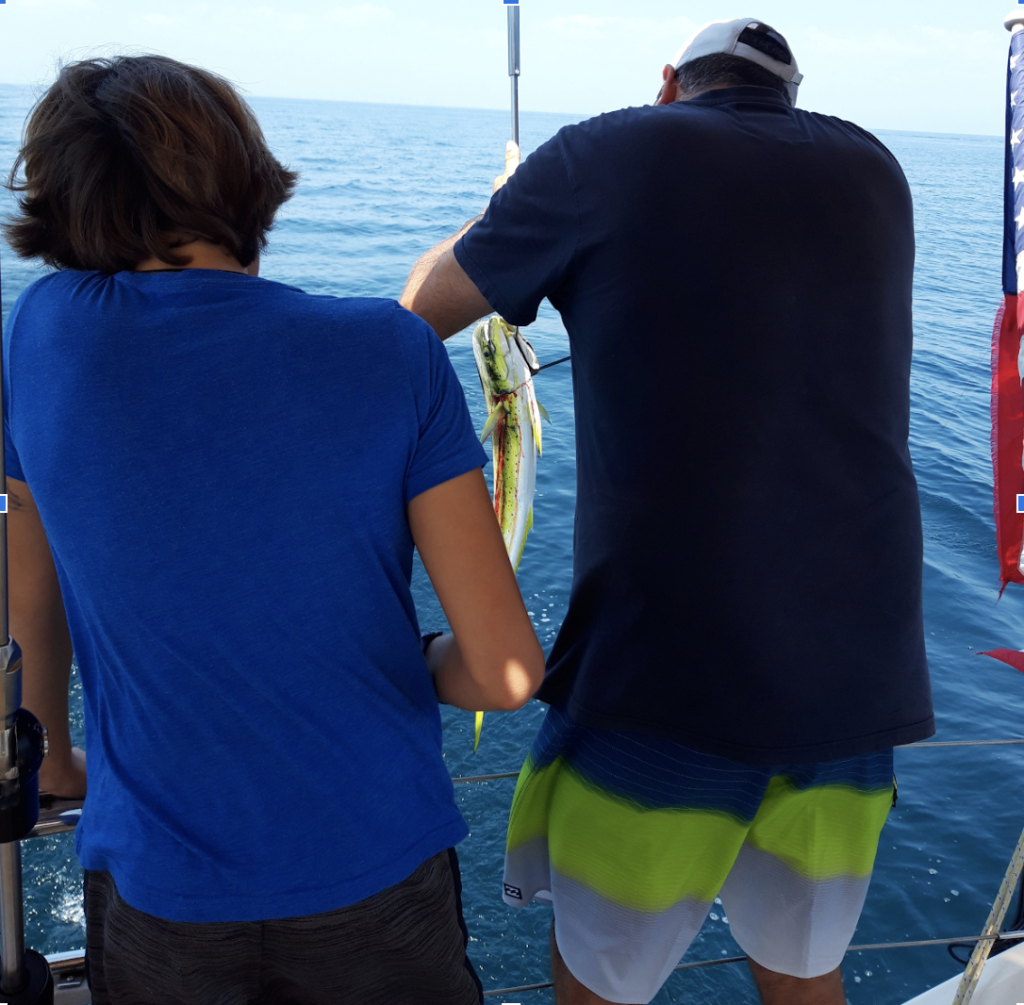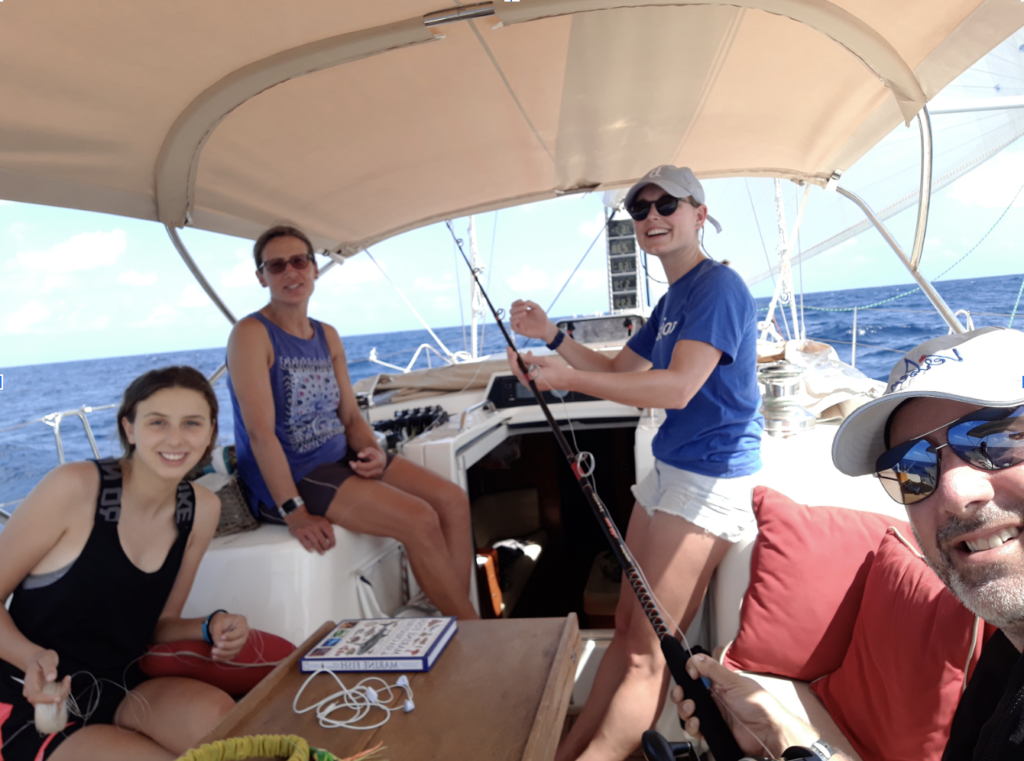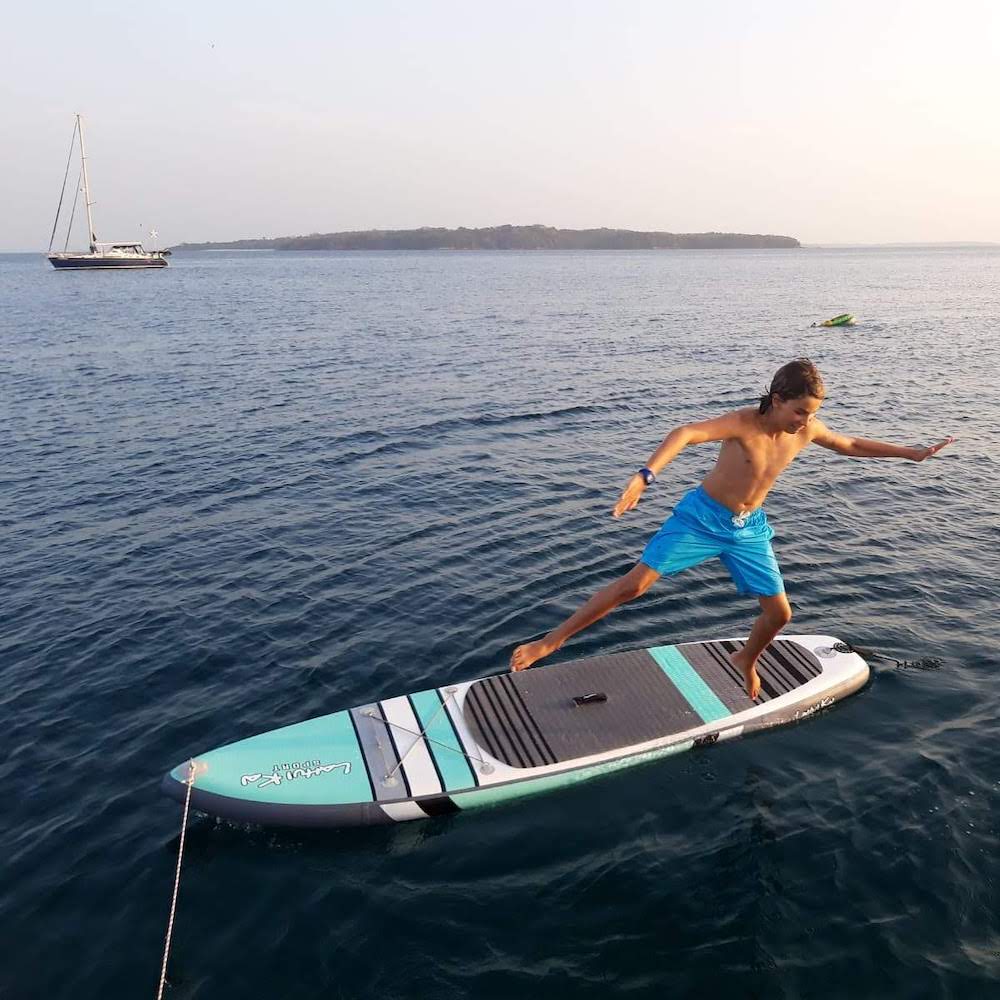 So, the good news first, we made it through the doldrums with much more wind than expected, and were able to sail every day except one. Doing about 8 knots on a broad reach, with favorable currents we follow the footsteps of Darwin on board of HMS Beagle.

Renee posted the watch schedule. After the first more windy night of 2 person watches, each adult had two hours on, six off; and Ben and Vera had two hours on, and ten off. The schedule brought a happy rhythm to our days and nights, as we all depended on each other.
During the day we would enjoy culinary highlights like Vera's scrambled eggs for breakfast, Beth's sandwiches and Ben's fruit smoothies and brownies. The kids did some school work, Elouise would be fishing and the adults read about Darwin's discoveries. We also had a daily ritual of listening to the story of Captain Courageous in the cockpit.
During our night watches we would be searching for constellations in the sky with the help of Renee's Starwalking app. We were also lucky to sail with the full moon; lighting up the sky every night. Vera and Ben were great watch partners during the night.
After the first night, we didn't see any boats, but we were not lonely. There were dolphins in Bay of Panama for first two days and red-footed boobies on the bow. Amazingly , we saw an ocean turtle, hundreds of miles from any land. Most amazing was an ocean turtle, hundreds of miles from any land. Several fish did an attempt to eat our bait but unfortunately we didn't catch any.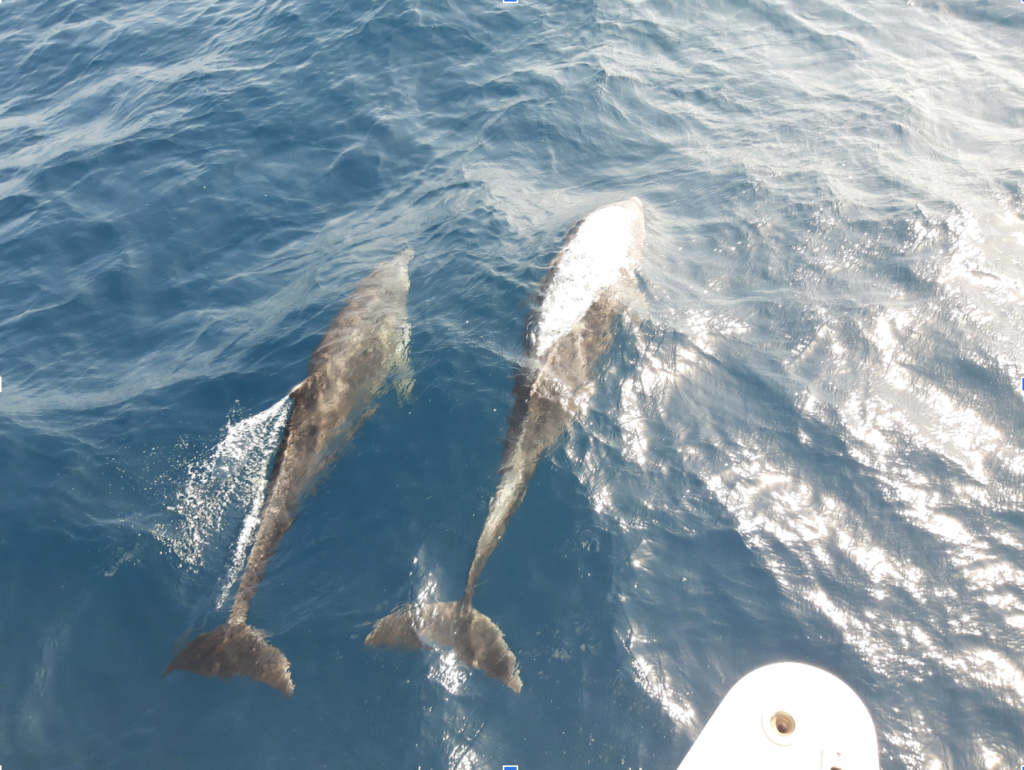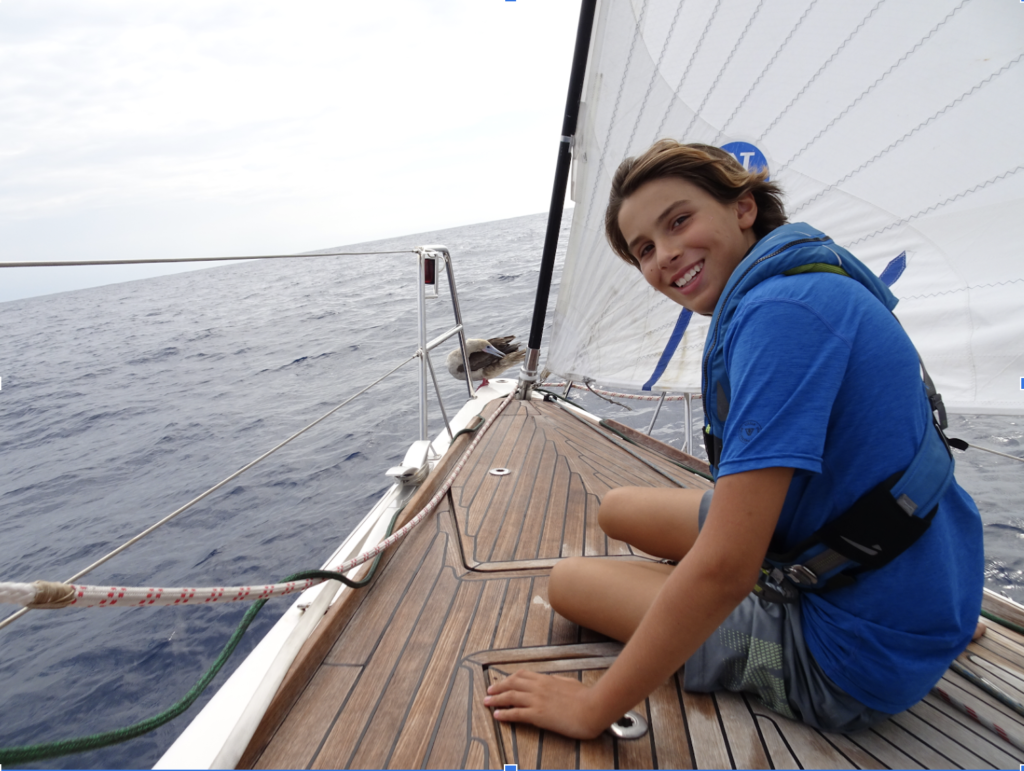 On our fifth day with San Cristobal almost in sight, the Verbena crew welcomed a special guest. Right before we crossed the equator Neptune queen of the seas paid us a visit. One by one we gave our vows …
"Oh sweet neptune, ruler of the sea; your beauty, power, grace and grandeur are boundless. I am but a wander in your kingdom. My meanderings take me across the very belly of your breath. I am grateful for your safe passage and the ongoing unfolding of your treasures. I offer this equatorial douce in your salty ether as my pledge to be a worthy stuart and respectful traverser of your realm."
… and accepted a refreshing seawater dip/splash. We are proud to call ourselves sons and daughters of Neptune;
Brownie baking blue footed booby Ben
Sirena del mar (mermaid of the sea), influencer of the pacific ocean Vera
Sunshine sailmaker problem solver Bill
Sungreeting, starwalker, mother of the crew Renee
Blue sea Beagle sailor Beth
(Elouise unfortunately missed the ceremony but having crossed the equator previously this luckily had no negative consequences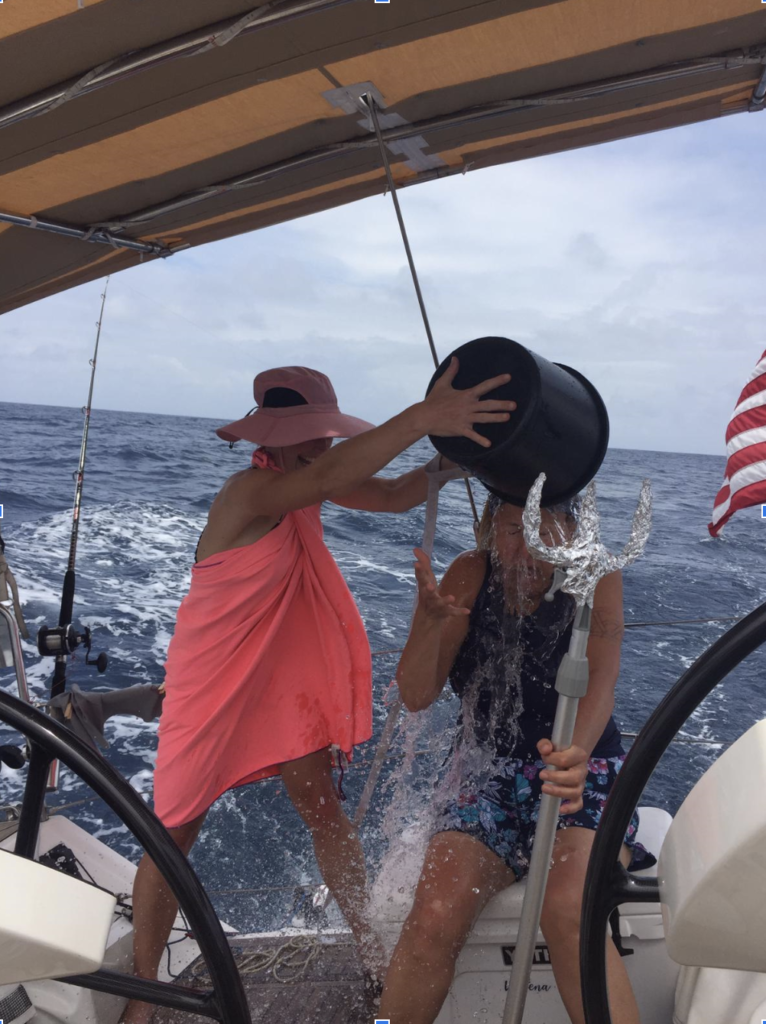 Besides our watches we had a daily competition of euchre and Ben challenged Vera and Elouise several times a day to play Exploding Kittens – the favorite (new) card game of the trip!
Wednesday by midnight we arrived under sail into the bay of San Cristobal Island. We sailed right by Kicker Rock, which would play a big role in our visit there, but at night it loomed large and imposing over our midnight arrival. Welcomed by curious sea lions around the boat we celebrated our arrival at the Gals with a cold beer!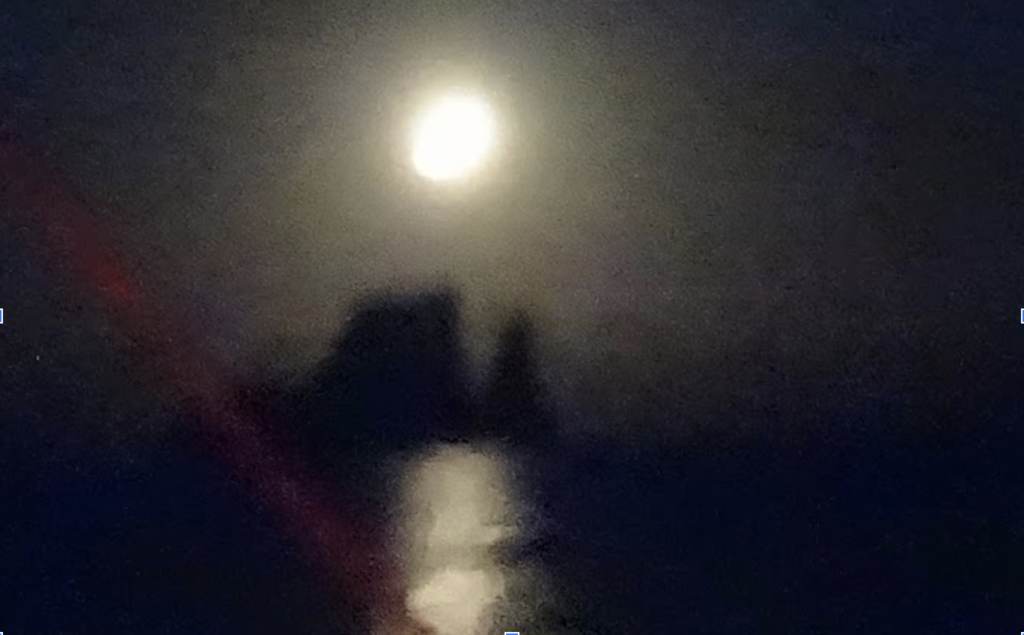 The next morning customs and immigrations knocked on Verbena's hull for inspection! Eight people in uniform and a diver to check the hull came on board to complete our clearance into the Galapagos. After approving our separated garbage bins, perfect clean hull and crew list we were free to go on shore. We celebrated our first steps on San Cristóbal with a good lunch, iced coffee, good wifi and an amazing view over the bay with sleeping sea lions on the beach!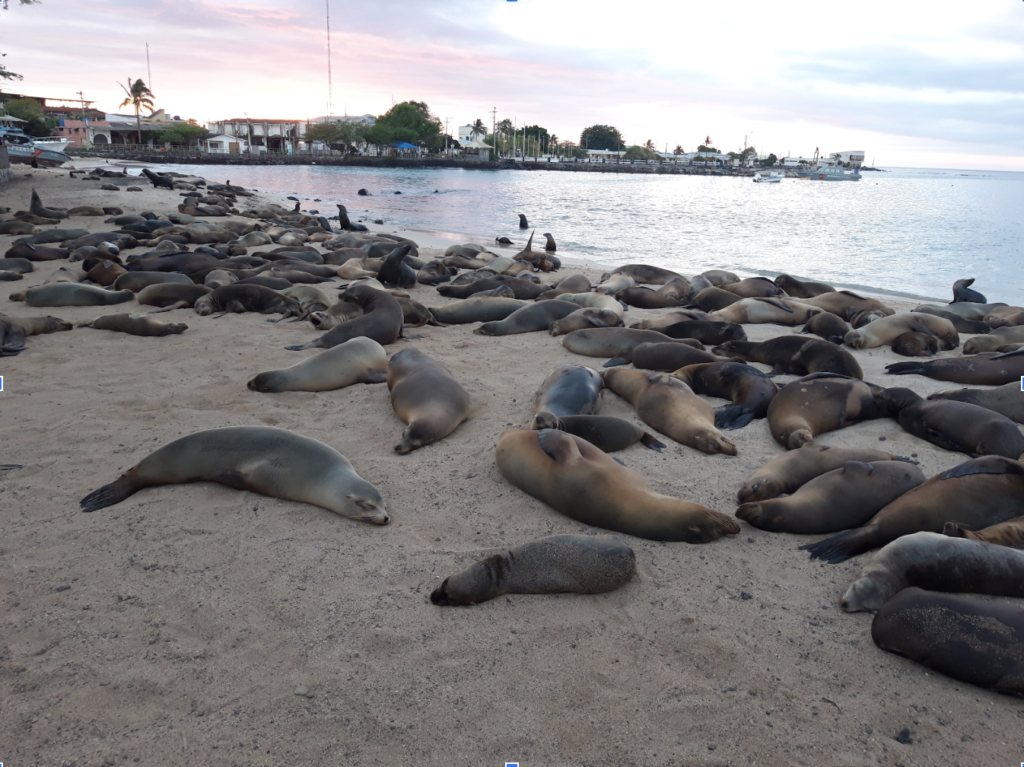 We took the first opportunity to book a tour to Kicker rock to meet Galapagos underwater wildlife. Renee, Bill and Elouise went diving and Vera, Ben and Beth snorkeling. This was an unforgettable experience! We were swimming in a National Geographic scenery surrounded by; Hammerhead sharks , Galapagos sharks, white tip sharks, golden and eagle rays, sea lions playing with us, turtles parrotfish and many more amazing fish.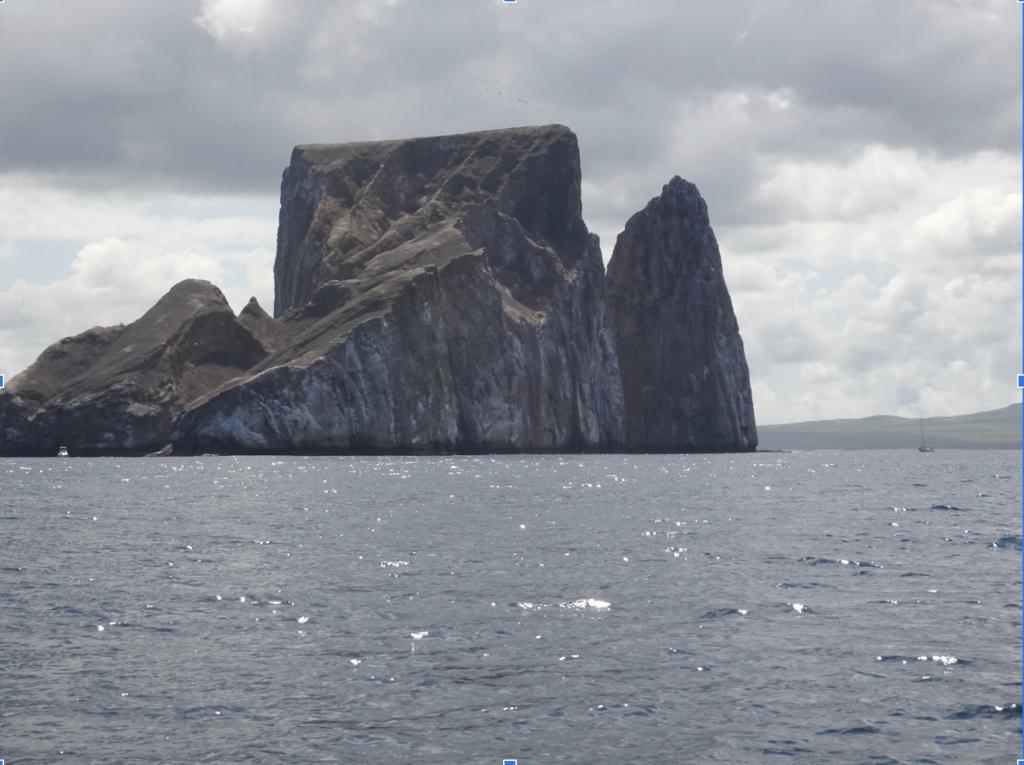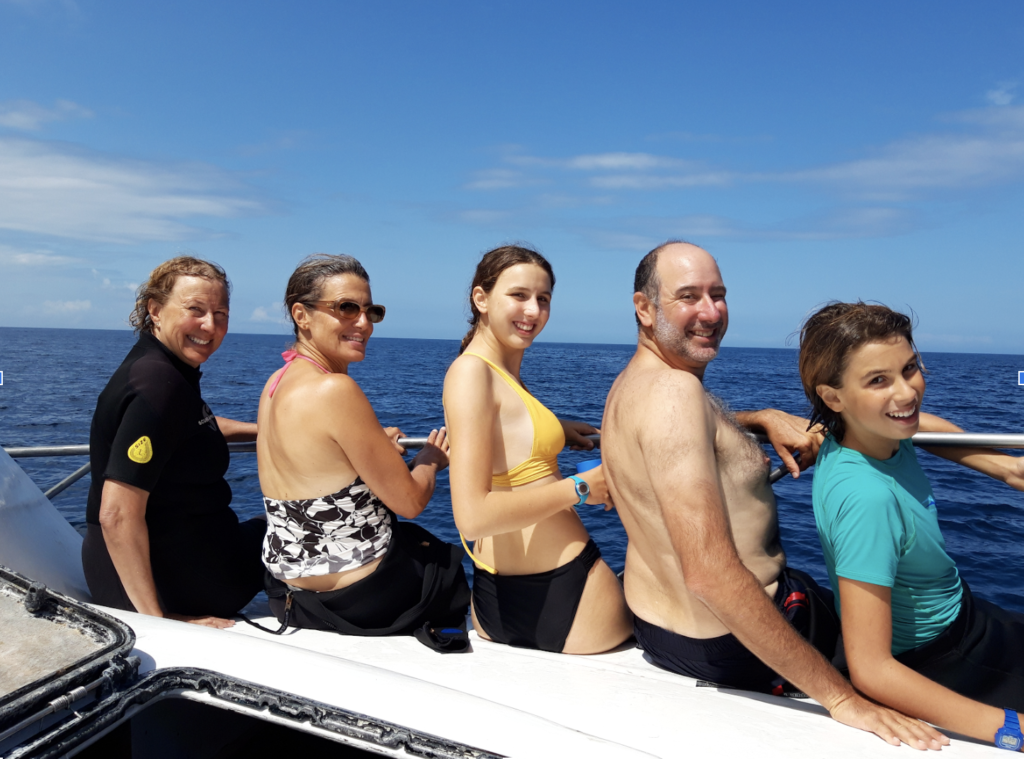 We started the weekend with a fancy breakfast out at the Yumu Galapagos hotel. Beth and the kids stayed on the island to explore the highlands of San Cristóbal, and take a "ferry" to Santa Cruz, and Bill, Renee and Elouise set off with Verbena to Santa Cruz. We all met in the harbor of this second, and more populated Galapagos Island. While enjoying cocktails and grilled octopus with ceviche, and mojitos, we described our travels of the day. The "ferry" turned out to be a fleet of dive or fishing boats! And Verbena sailed beautifully. That night Porto Ayora celebrated Galapagos day, the day that the islands became part of Ecuador. All the locals were dressed up singing along with the concert set up at the quay side until very late.
We did a final day trip together to the highlands of Santa Cruz. With a private tour guide and drove to the highlands in van. Arriving in the green and vegetated highlands we were amazed by the size and age of the giant tortoises, and walked through a lava tube. Then, a spectacular lunch at a hilltop restaurant where half a hog was on a large grill and we napped in hammocks. We ended our tour at the Charles Darwin Research Station where we watched baby tortoises and saw the embalmed body of the last giant tortoise native of Pinta Island, Lonesome George.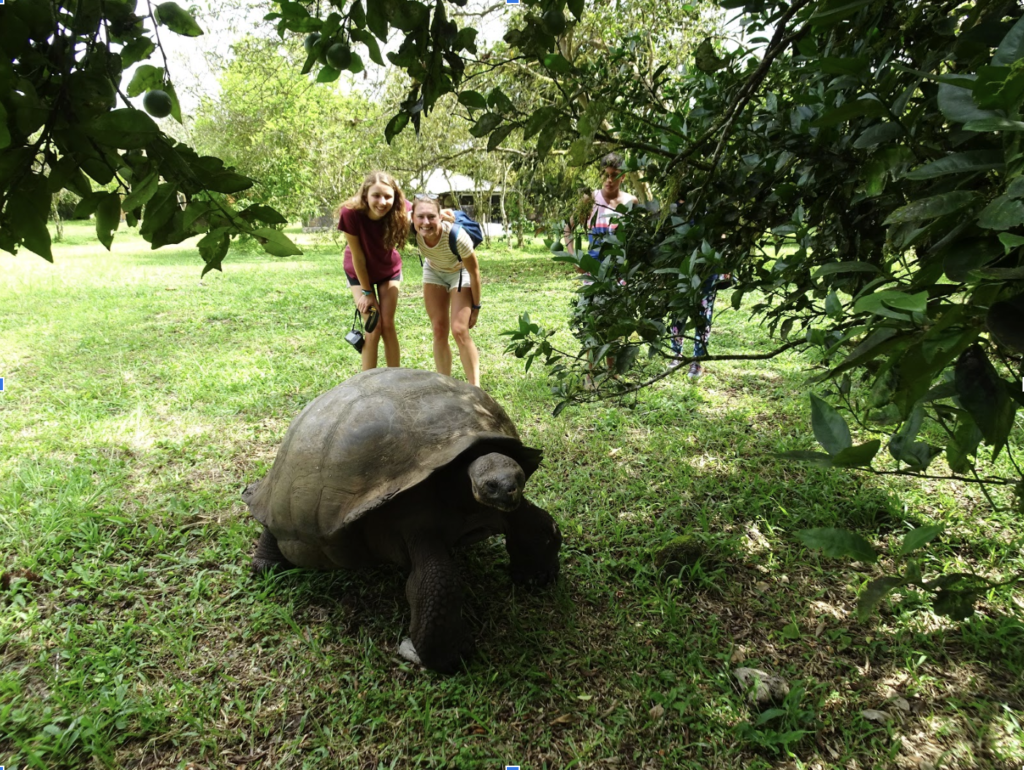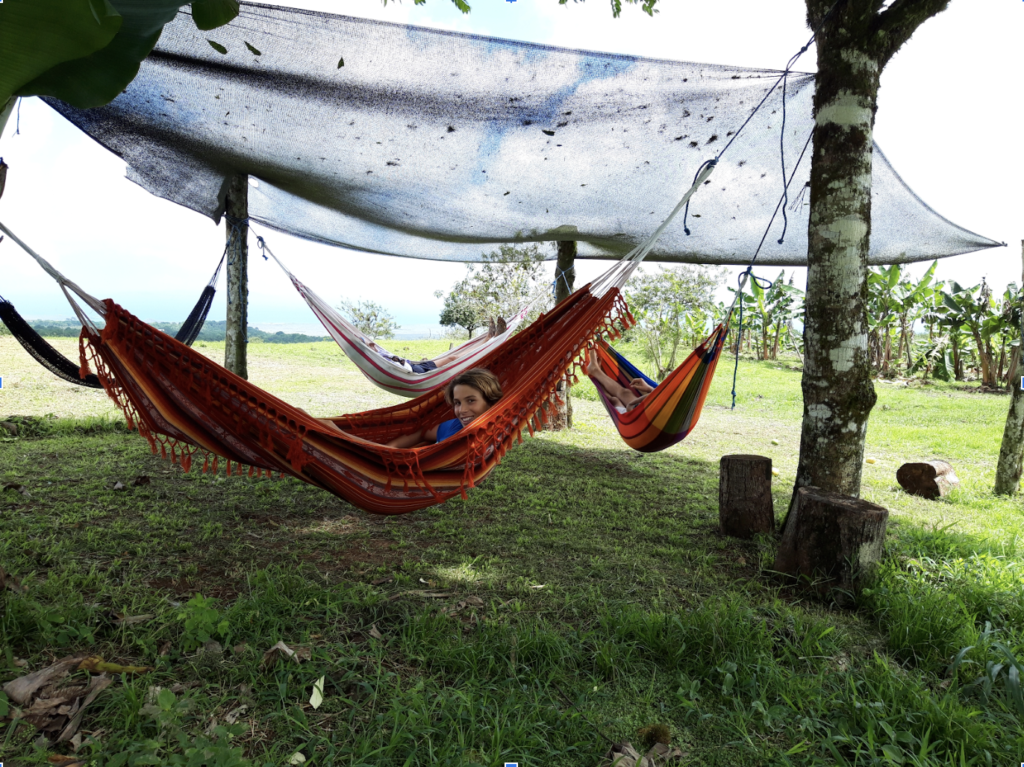 Thank you very much for this amazing trip! We wish you a safe journey and a good crossing to the Marquesas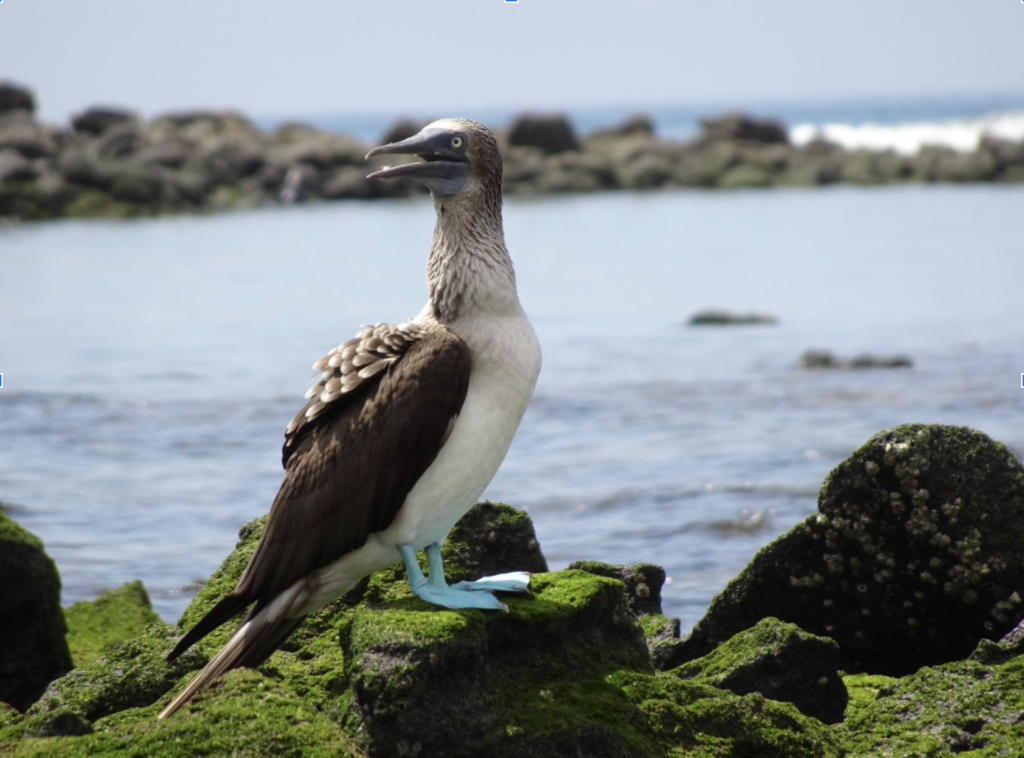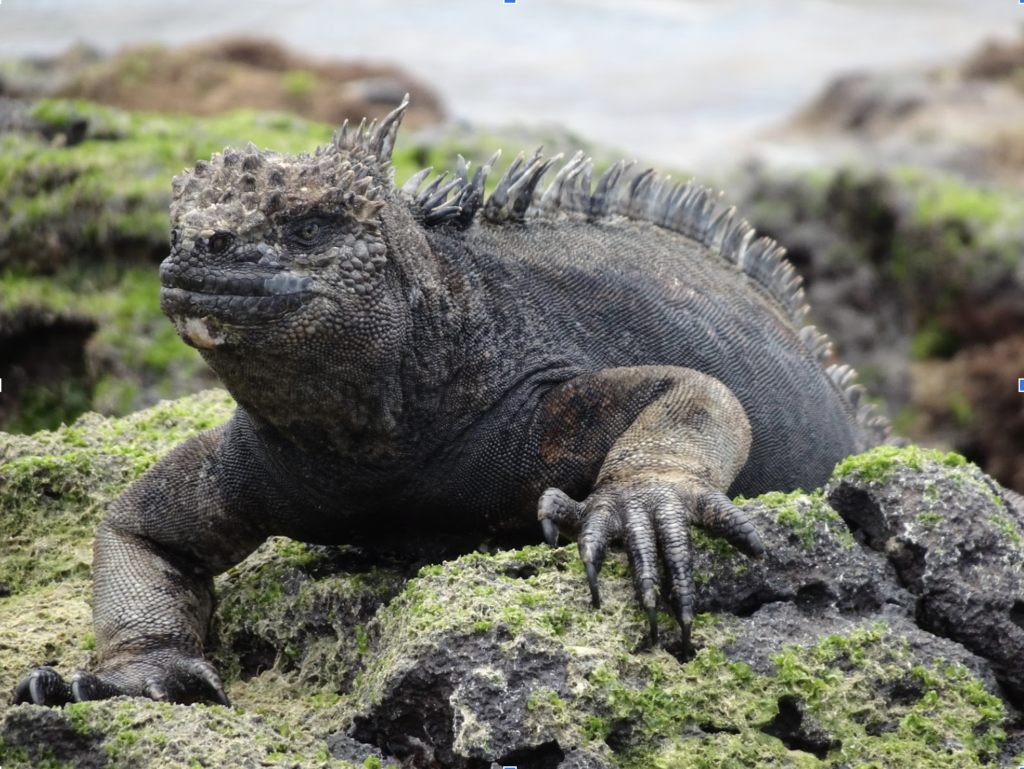 Beth's poem to the mainsail –

I knew you were waiting for me,
The tallest mast in the harbor is meant for power under sail,
Winches like small barrels to trim that power

Endless white wall, looming over the deck
Bend, bend, backward to finally see the halyard
Your watch starts now

Two wheels to choose,
Harden up!
Pick one and start a conversation with the wind,
Timid, finally hearing a clear message
No, slowing down. Yes. 10 knots!
Fear left in the wake