16 days and 3045 nautical miles after setting off with the ARC Rally from Las Palmas we crossed the finish line at St. Lucia. All of us were relieved to have completed this difficult passage.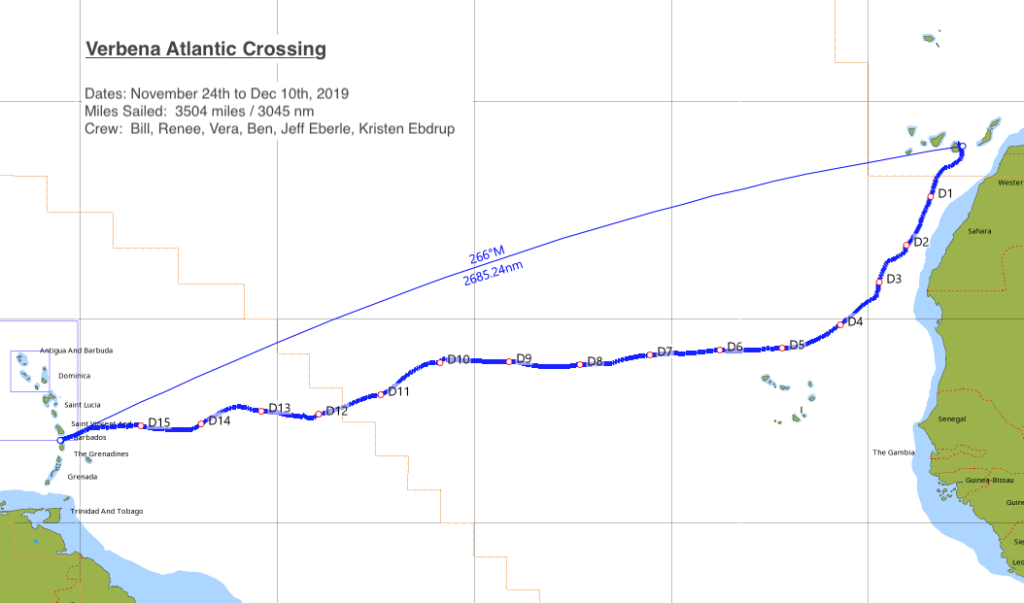 We were anticipating a long but easy going passage, instead we ended up with an endurance challenge. Our auto-pilot failed early on leaving us with over 2000 nm to hand steer. We adjusted the watch schedule with the kids stepping up to full fledge watch partners and we carried on. But peaceful nights of stargazing and boat monitoring turned into fatiguing two hour stints of keeping the boat on course through big ocean winds and waves, often on moonless dark and cloudy nights.
Crossing an ocean, days and nights flow into each other as you move through the round the clock watch schedule. Looking out you'll see wave after wave after wave of ocean, flying fish jumping out of the water and puffy clouds, sometimes filled with heavy rains and squalls. It is both empowering and nerve-racking to know we just have our boat and each other to rely on – except in dire emergency.
During the passage we made a made a set of posts on the ARC website, here they are:
Day 1 to 3 – Atlantic Ocean, Table for 6 Please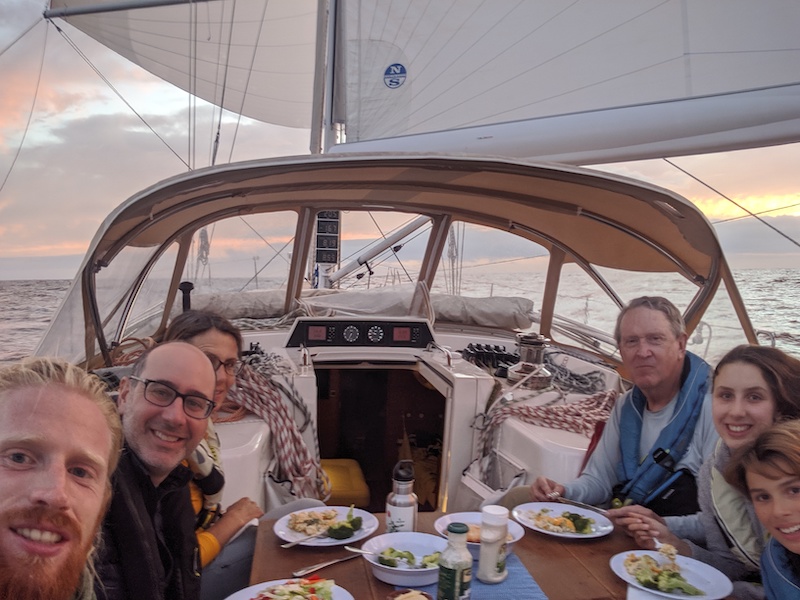 Boat, crew and family are all having a good time.
Our game plan has been, and continues to be, to head south, trying to avoid the light wind to the northwest and then turn right. It will feel real good when we turn the corner and start heading west, pointing at our destination!
The boat is sailing well. With the wind behind us, we can get the boat going 8 kts plus in about 10 kts of breeze. We've had a couple of spinnaker line issues but nothing we can't overcome.
We've been seeing boats as we go which is real nice. We are currently alongside a X-612 and at yesterday's noon position check the Volvo Ocean Race boat participating was about 90 nm further along our path. All good company.
We caught one tiny fish and threw it back. The line just went back in (8am now) and we (well maybe just me) are feeling confident we'll have fish for lunch.
Last night while at the wheel, I heard a startling snort sounding like a person gasping for breath. Turning around there was a trail of bio-luminescent gracefully meandering through the water. A dolphin friend has come to keep me company for a while. With no moon the sky is super dark. When you first come up on watch it takes some getting use to, but then the sky comes alive. Sailing wise, it is a mater of using the instruments and listening for the sails.
Kids are adapting to sea life, participating in watches, cooking and sail handling – although homework is falling behind. Vera has been taking water samples each day and yesterday Vera and Ben did a neuston net surface collection.
For Ben's science class he had to come up with a project related to the stars. He's going to do something related to the sexton. Initially he asked for some help coming up with an idea. Nobody had any suggestions. Then he asked if he can go online to do some googling for an idea. No. Then he came up with the sexton idea.
It's nice – for all of us – to unplug and enjoy the dolphin shows.
Day 5 – Turned the Corner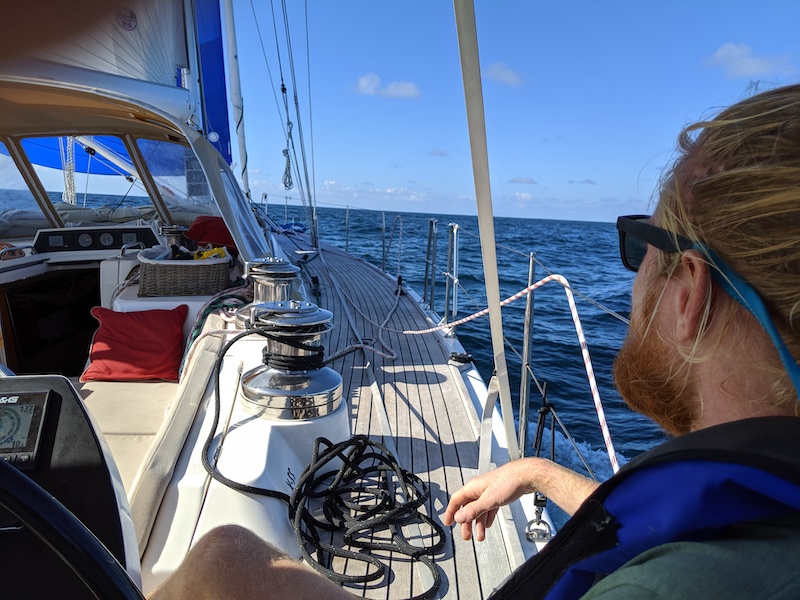 Last night, before dinner, we jibed over to starboard and started our march west. And by march I really mean a large scale meander. Over the next few days, we'll be banana curving our way towards our St. Lucia rhumb line; getting lifted as we go, then zig-zag our way to the finish. That's the plan as of now.
Seas have been smooth and winds have been light. Our Asym A3 has been our work-horse. The combo has made smooth easy conditions.
We are making a Thanksgiving dinner today; one thing we we will be thankful for are relatively good offshore cooking conditions.
Day 7 – Chained to the Wheel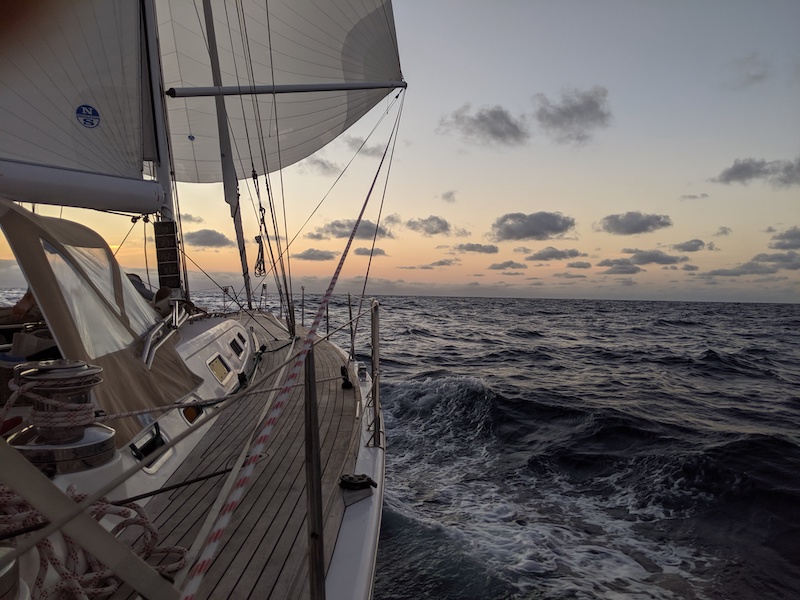 Since we turned west we've been in a good rhythm.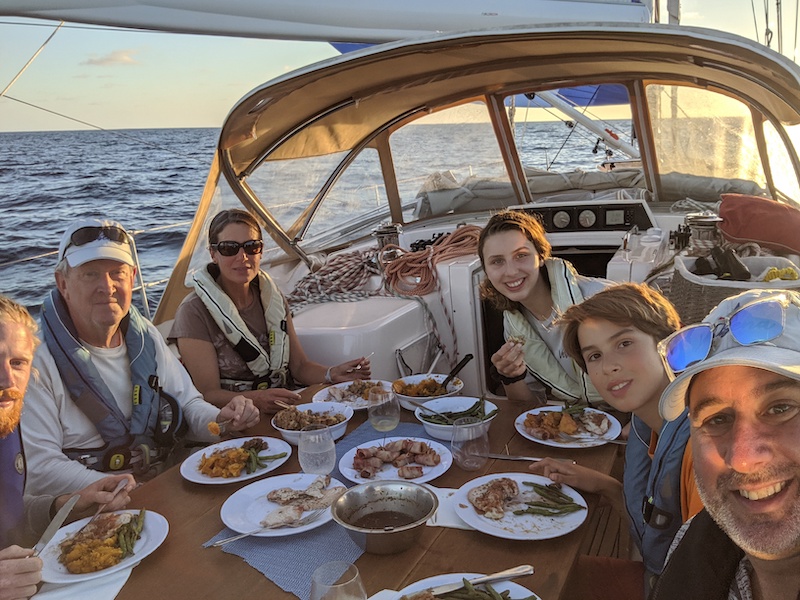 Winds have been in the 8 to 15 range mainly from the east north east and slowly building. Yesterday was our best day posting over 200 nm. We had a Thanksgiving feast and caught our first fish; the perfect 6 person meal size dorado. Next up we are going tuna hunting.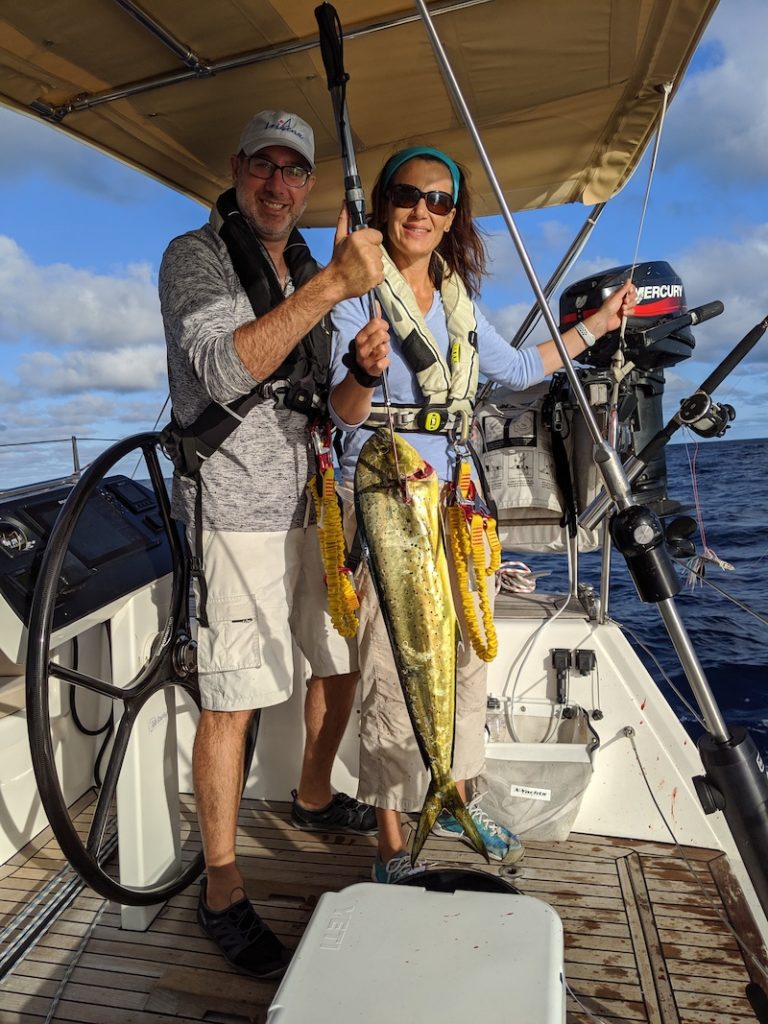 Last night, as Renee is coming up for her (single person) watch with a symmetrical spinnaker up in the pitch darkness, the autopilot started complaining 'no rudder response' and giving up. The night was filled with hand steering, double person watches and troubleshooting. Twelve hour later the trouble has still not been shot. Only 1695 miles to go!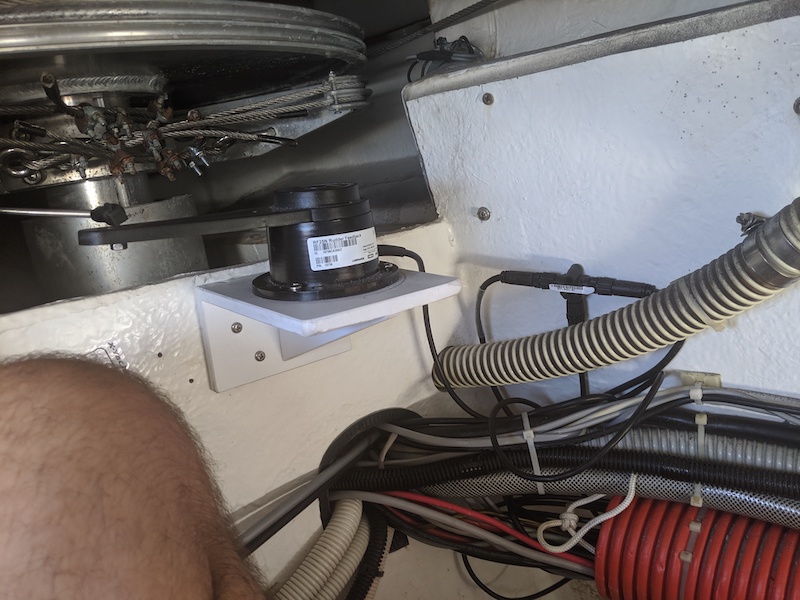 Day 12 – RIP Otto
We are reaching what feels like the home stretch, only 900 nm to go! We estimate we'll be in around Tuesday. Winds from here forward seem consistent 15-20 kts from behind us with periodic squalls.
Losing the autopilot was like losing a key crew member. Hand steering all day and all night on 2 hr shifts between the 4 adults wears you down. The kids have been a big help as watch-partners. With the support of X-Yachts they are already looking at sending us a new autopilot drive motor.
We've had some other setbacks. The water maker developed what I'm being told by Spectra (the manufacture) is 'sticky pistons'. Seems easily fixable but a project. We have enough water so I'm not going to attempt a fix at sea, but we are now conserving… ie no showers; funky. The generator shut down, but I was able to fix this. It was a simple broken water impeller.
Spirits remain high and there are lots of laughs aboard; yet all are ready to be in port.
On the plus side, the Watt & Sea and our satellite communications (Thales Iridium C + Mailasail router and compression) has worked perfectly. Our sail plan of 2 asymmetric spinnakers (gennaker and a A3 for reaching), a symmetric spinnaker and a 108% jib (poled out downwind) have worked well in light and heavy winds.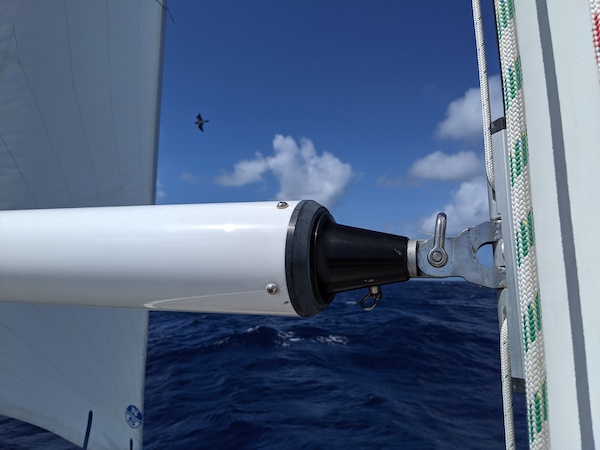 Squalls have also caused some mayhem. Yesterday at dawn we broke the spinnaker pole inboard end off the mast mount as we were rolling the poled-out jib up as heavy winds. We managed to make a fix that is stronger than the original and we were back up and running in a few hrs. Lesson for us here is to jibe the poled out jib back to the leeward side before rolling it up. The high clue angle of the poled out jib makes it difficult to get a proper fuller roll, especially in high winds.
We are making quick progress with 200+ mile days since we started heading west. Just wish we still had our dear friend Auto with us.
Day 14 – Getting Close!
Oh we are close. Under 350 nm and currently heading straight at St. Lucia. Just had a meat and potatoes meal and we are all hoping for a fish tomorrow to round out our trip with a fresh tuna dinner.
We are making way with a reefed main and poled out jib. The boat is moving well and simple to reduce or adjust sails as squalls come up.
Squalls have been ever present the last few days, but today was a break. We could see some off to the sides, but non found their way to us, thankfully.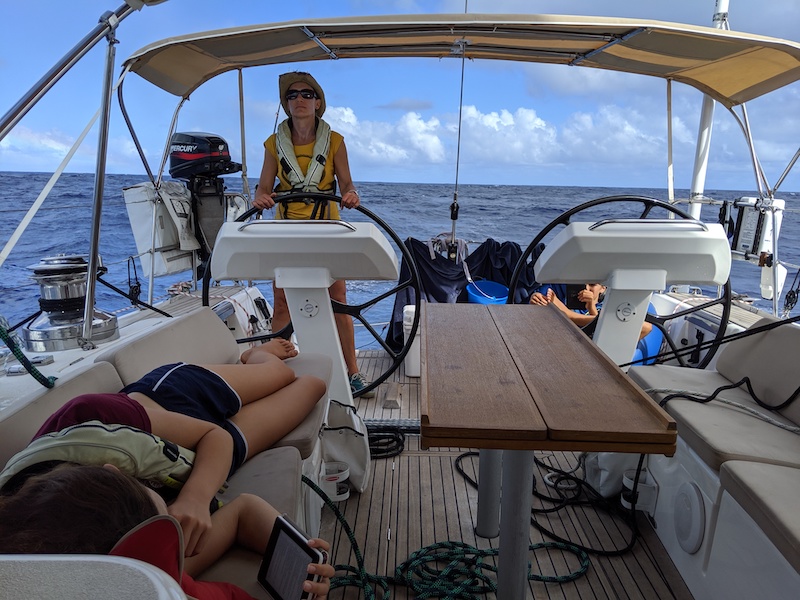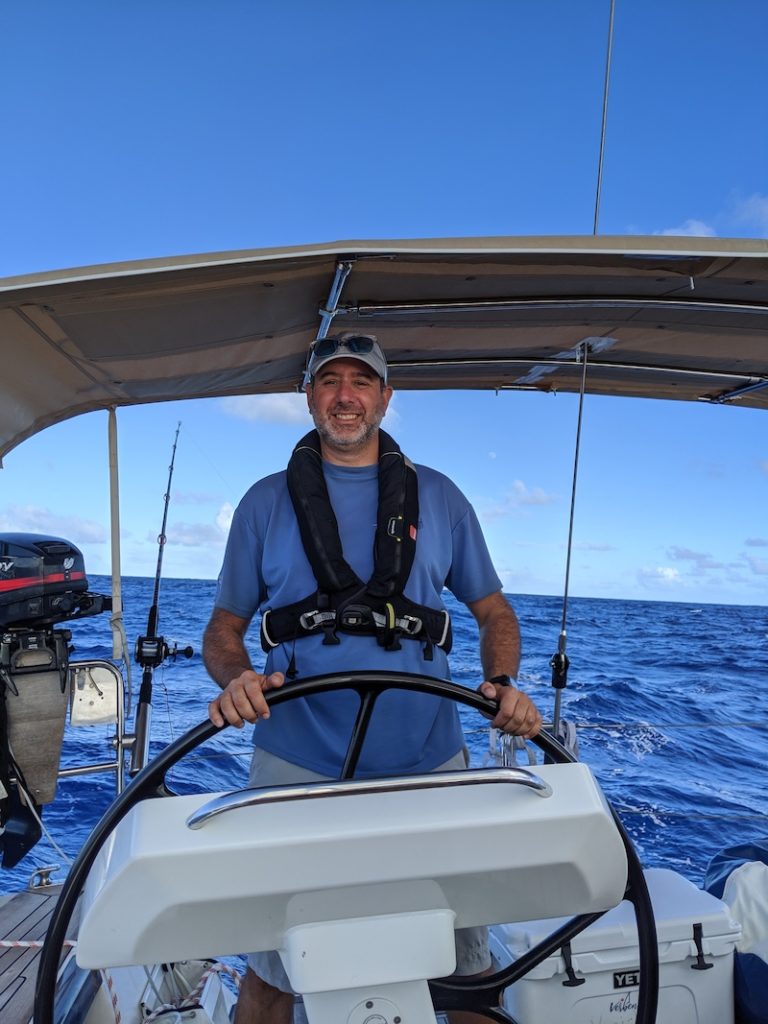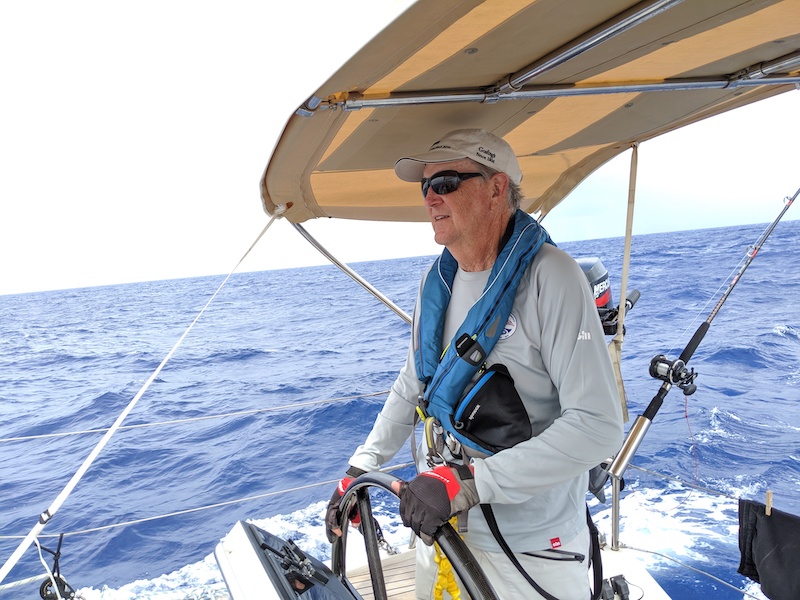 Day 16 – Land Oh!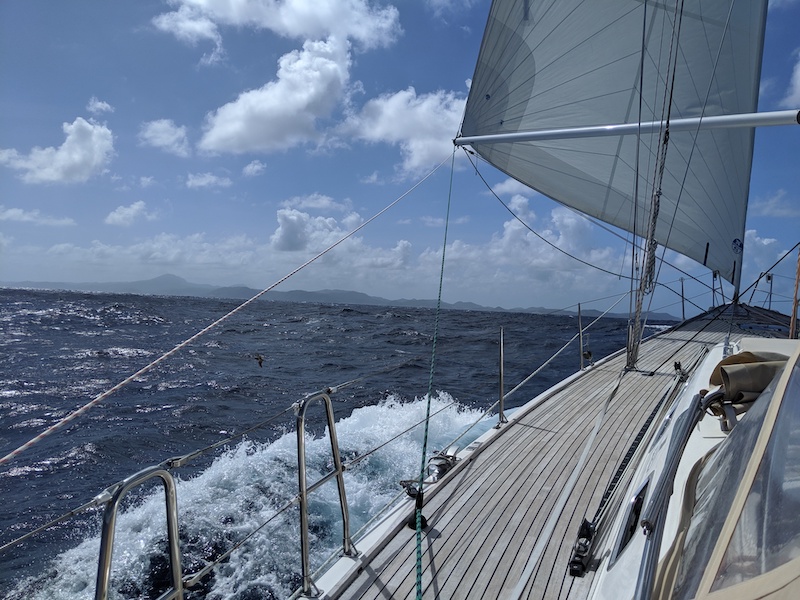 At 8am we spotted St. Lucia through the distant cloud cover, what a sight! The night before, just as we were thinking about a pasta dinner, the line hits and it is Dorado for our last at sea supper.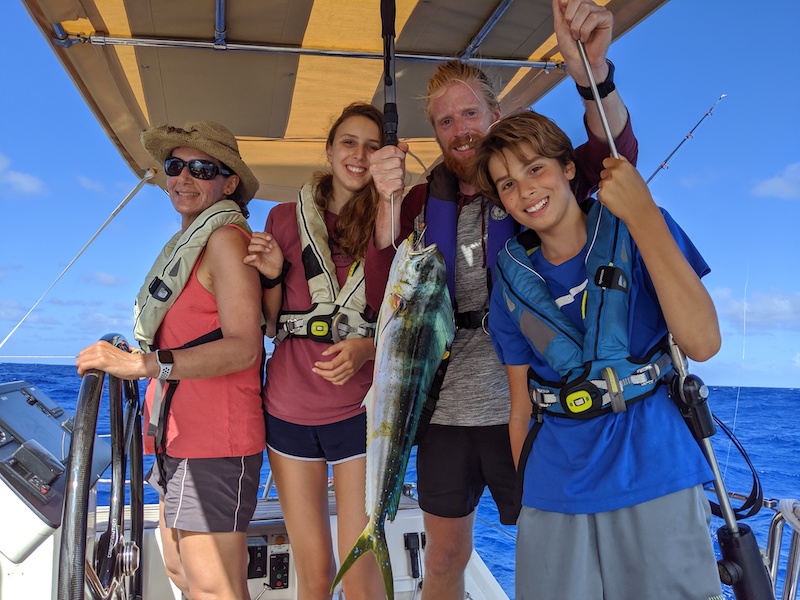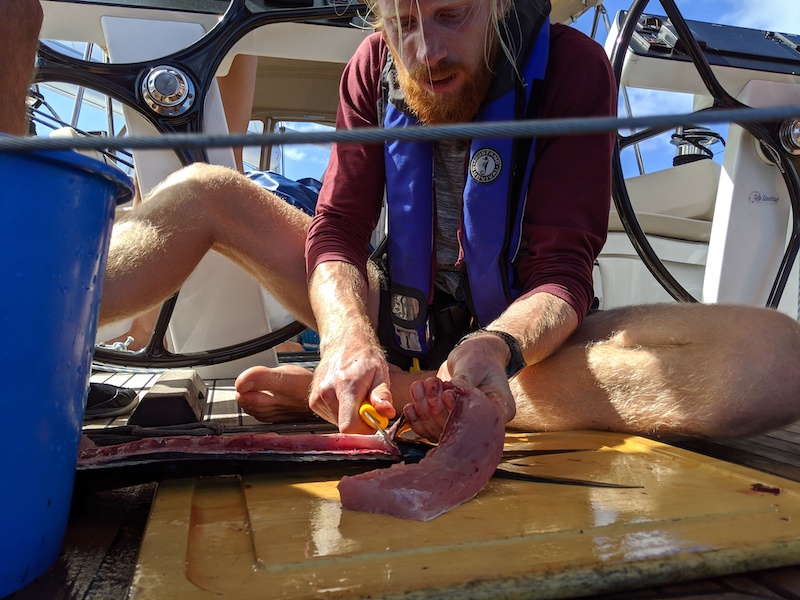 All are excited for arrival today and we wish our friends still at sea safe passage.